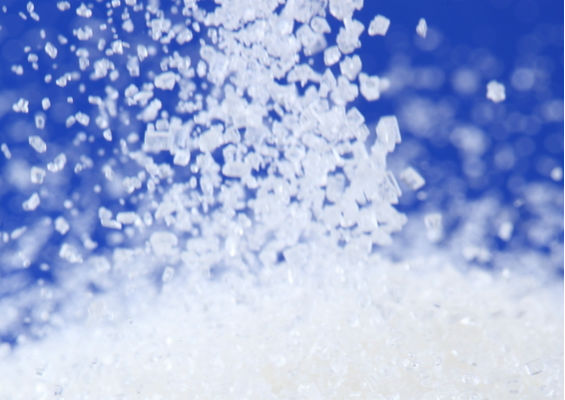 I'm currently on day 6 of Whole30.
If you're unfamiliar with Whole30, it's basically one of the current healthy eating trends, a month-long dietary guide that, according to the authors of the idea, will lead to "total health and food freedom."
Now, whether or not I'll experience total health and food freedom remains to be seen—right now I'm trying to learn how to eat healthily, work through my cravings/withdrawals, and avoid public fits of unintentional rage. I mostly kid—but wow, while I knew this was going to be hard, I didn't know it would be such an emotionally-charged journey.
But I guess like most types of freedom, food freedom comes at a cost. And food freedom is my ultimate goal. Sure, I'd like to lose a pound or two. And yes, I want to/need to learn how to eat in such a way that my body is fueled for energy and "living."
But my ultimate goal? The reason I need to do this? I want food freedom…
Because… I'm a sugar addict. I know that sounds ridiculous. And for years I avoided using the term "addict" as it relates to my body's unhealthy relationship with sweet things. But it's true; my behavior as it relates to things like cake, ice-cream, certain kinds of candy, brownies, cookies—am I grossing you out yet?—"fruit" flavored ice pops, milkshakes, pies, tarts, cereal, syrup, etc. is pretty consistent with what I know about addictive conduct.
Googling "sugar addiction" will bring up a host of professional opinions about why sugar is addictive substance and other opinions as to why it's not.
But all I know is that I love sugar. And I'm not proud of it. I'm ashamed.
In fact, what I'm getting ready to write is downright embarrassing for me. But I'm writing it because 1) it's the truth and 2) because maybe somebody else might relate to my story it's the truth.
In 8th grade, I ate 2-3 KitKat bars nearly every day until my mother found out that I was 1) eating 2-3 KitKat bars a day and 2) using my allowance to buy 2-3 KitKat bars every day. That was not a good experience.
In college, I'd often buy a box of Twinkies or Swiss Roll Cakes after I was finished with my classes and eat the entire box before bedtime.
Yeah, my body needs sugar.
I have an inability to just eat 2 Double Stuf Oreo cookies. I almost always start with 5. Then go back for 4 more. I take a break for few minutes, maybe an hour or two, and then I'll eat 3 at a time until they're gone.
Two months ago, I bought a Pepperidge Farm "Birthday Cake"—it was not my birthday—at the grocery store. At 5:30pm, I had my first piece. I ate the last piece 12.5 hours later… for breakfast.
These kinds occurrences aren't everyday happenings. Usually, my weakness for sugar can be satisfied without gorging—but it always gets satisfied with something. Sometimes I can go a couple days without eating "too much sugar"—but usually those days are guilt induced or right before my annual visit to the doctor for my checkup.
Sometimes I wake up in the middle of the night (usually between 2 and 3 a.m.) craving something sweet. And I'll spare you the pitiful stories. But trust me, they aren't pretty.
Friends are shocked when I confess my sweet addiction. I think they're mostly surprised because I wear my problem pretty well. For the most part—but for that short stint in my early 30s when I was on antidepressants—I've never struggled with my weight. I workout enough to maintain in reasonably decent shape.
But I've long feared how my unhealthy eating habits would affect me down the road. While nobody in my immediate family is diabetic, my father's extended family has a long history of the disease.
I've long hated myself for not being able to enjoy cake or cookies in moderation. A couple weeks ago, Adeline, my 4-year-old, made a passing comment about "Daddy eating lots of junk…" And that, of course, made me feel pretty much like you'd suspect—terrible.
But I'm honestly grateful she said it. I needed to hear it. I needed those cutting words to be said aloud. And honestly, if anybody else had said them, I'd have likely become defensive. But hearing her say them—in her adorable cutesy voice—was, well, gut-punching in the best possible way.
When I started Whole30, I had no intention of writing about it or using social media as an outlet to express my frustrations and struggles working through the program. But I don't think I realized how emotional this experience was going to be. I don't think I realized how much about myself and my habits I would begin to learn as I engaged the process of learning how to eat. Am I afraid of failing? Yes. Am I afraid of being successful for 30 days only to fall back into my old habits. Yeah.
But I'm 6 days clean. Sure, it's felt like hell at times—headaches and mood swings and sleepiness and a bout or two of deep sadness.
But so far, I'm doing it, one well-balanced meal at a time.
So, yeah… My name is Matthew and I'm addicted to sugar. And that sounds cheesy and even ridiculous. But it's true…
Viagra is for the treatment of inability to get or keep an erection and similar states when hard-on is of low quality. When you buy remedies like cialis from canada you should know about cialis online canada. It may have a lot of brands, but only one ATC Code. Erectile dysfunction, defined as the persistent impossibility to maintain a satisfactory erection, affects an estimated 15 to 30 millions men in the America alone. Sexual soundness is an substantial part of a man's life, no matter his age etc.