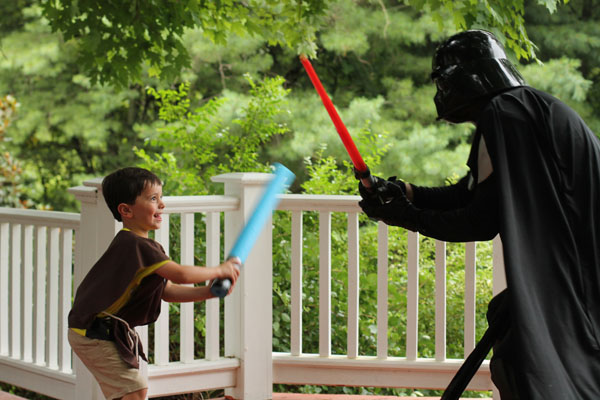 Dear Elias,
Well, son, tomorrow's the big day—the day that you and I have been talking about for three-and-half-years—it's the day that we get to go see Star Wars: The Force Awakens.
I cannot wait.
You'd just turned 4 when I read the news online that Disney was making a 7th Star Wars movie. When I walked into your room to tell you the good news, you'd just woken up from a nap. I said, "Elias, guess what? When you're 7-years old, you and I get to go see a brand new Star Wars movie!"
You jumped up and down like you had no idea how long we'd be waiting. You've been excited ever since.
When you turned 5, you said, "Daddy, when I turn 7, we get to go see the new Star Wars movie!"
When you turned 6, you said, "I'm almost 7, Daddy! Only one more year and we'll get to go see Star Wars!"
When you turned 7, you started counting down the months until December 17. Then, as October started, you counted down both the weeks and the days.
This morning you looked at me with that wild grin of yours and said, "Daddy, one more day–and then it's Star Wars and buddy time! I can't wait!"
I cannot wait, son. You have no idea. I. Can't. Wait.
I love Star Wars–the story, the characters, the elaborate sets, the drama of the force vs. the dark side, the music–I love it all. Since that first time I watched those opening moments of Episode IV, Star Wars has captured my imagination and has never let go.
But as excited as I am about this new Star Wars chapter finally hitting the theater, I'm far more excited that I get to see it with you, dude.
Seeing you become captivated by the same characters and story that have captivated me has been pure joy. Watching you get quiet and awestruck whenever Darth Vader arrives on a scene is beautiful. Seeing you grin at Chewbacca or roll your eyes at C3PO makes me happy. Hearing you shout "Yoda!!" the first time you watched Empire Strikes Back filled my soul up with joy.
One of my favorite moments was dressing up as Darth Vader at your 6th birthday party—seeing the smile on your face as you saw the leader of the Dark Side arrive on our deck was pure magic.
But that's the power of a good story. It transcends time, demographics, special effects and inspires us to feel, to dream, to fear, and to hope.
In the last three-and-half years, I've seen you experience all those things.
And tomorrow, we'll get to experience all those things together—you and me—watching The Force Awakens.
I cannot wait.
Now, son, I'll be honest–you might see me shed a tear or two tomorrow night. It might happen during the opening credits when the epic score begins and the introduction to the story begins scrolling across the screen. Or it might happen at a moment when I see your eyes widen as you get lost in the magic of the story. Or it might just happen because I'm with you, experiencing the continuation of a story that has affected me so deeply.
I don't care if this new Star Wars is good or bad or just so-so. I know it's going to be AMAZING because I'll be seeing it with you.
I've waited three-and-half years for this. I'm glad the time hasn't flown by too fast because I love being a part of YOUR story, a lively and imaginary tale that, far more than Star Wars, has had a deep and profound effect on me. 
So, tomorrow's the big day, Elias—I cannot wait.
May the force be with you.
And with me.
With both of us—tomorrow and forever.
I love you, Elias.
Daddy
PS: I'm totally going to wear that Darth Vader hoodie you bought me for my birthday!
Viagra is for the treatment of inability to get or keep an erection and similar states when erection is of low quality. When you buy remedies like cialis from canada you should know about cialis online canada. It may have a lot of brands, but only one ATC Code. Erectile dysfunction, defined as the persistent impossibility to maintain a satisfactory hard-on, affects an estimated 15 to 30 millions men in the America alone. Sexual health is an substantial part of a man's life, no question his age etc.