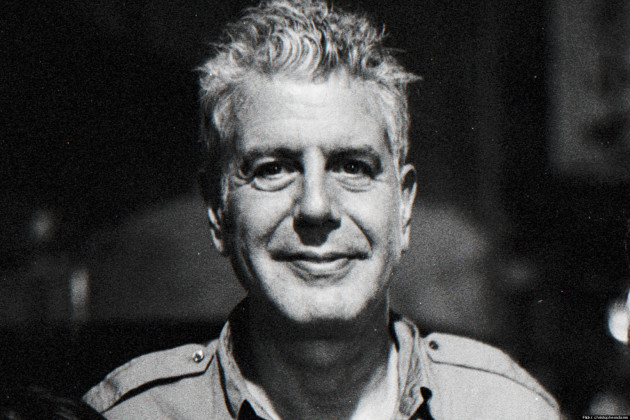 Jessica and I went to see Anthony Bourdain last night at the Tennessee Performing Arts Center (TPAC). Though my wife is familiar with Bourdain's show on CNN, the tickets to his Close to the Bone show were a Father's Day gift for me. As an avid traveler, I find Bourdain's Parts Unknown to be a richly honest and interesting commentary on the world's people, places, and cultures. As a chef and sincere lover of food, Bourdain's brilliance is in how he utilizes his gourmet passions to showcase the stories of those he meets in countries all over the world. In Parts Unknown, Bourdain's raw and authentic presence is masterful in many ways, and rare, too. Bourdain entertains. Bourdain is unafraid to be educated on screen. And at times, Bourdain drops his cool and comfortable persona and gives us a glimpse of a vulnerable human who is sometimes uncomfortable in his surroundings. No other show offers such an honest picture of the world around us, showcasing how we are unique and how we are the same.
I didn't know what to expect from an Anthony Bourdain live show. I only know his work on television. I haven't read his books. And I only knew a few small anecdotes about his personal life. Would the stories and rants we experience in the theater be similar to what we encounter on Parts Unknown? Or would we be introduced to a more extreme version of Bourdain's television persona? I couldn't wait to find out…
Upon introduction, Bourdain walked casually out on stage to the cheers of an adoring fan base that consisted of college students, hipsters, culinary professionals, travel geeks, and a number of folks who looked like the kind of people who listened to NPR and almost voted for Ralph Nader a time or two.
Bourdain began by telling us how nervous he was. Which I think was true. Nashville was not only the first stop on his 10-city tour, but his first live gig in years. He told us he hadn't been sleeping, which he said was a symptom of a medication he was taking. The meds were also giving him terrible dreams.
And then he told us about last night's dream, a nightmare in which Bourdain was being held captive in a foreign prison and sharing a cell with Guy Fieri, the celebrity chef who hosts like 12 shows on the Food Network. In his dream, Guy had Bourdain pinned down and was pouncing him on his back and head. And then Bourdain told us he suddenly felt creamy white stuff all over his back and head. "I think it was ranch," quipped Bourdain, "f*ck, I hope it was ranch."
That's how Bourdain's show in Nashville began, with a retelling of a dream in which Bourdain is possibly being sexually assaulted (raped?) by the host of Diners, Drive-Ins and Dives. That began Bourdain's nearly 30-minute raunchy and passive aggressive roast of nearly every past and present celebrity chef on the Food Network. He bashed everybody from Emeril and Bobby to Paula and Alton and several more in between. When discussing Alton, Bourdain said, "It's true; that dude eats a lot of dick. He loves it." But Bourdain saved his most vile critique for Guy, offering the famous chef a complete tongue-whipping, one that felt like it was an inside joke and only a handful of the people in attendance were in on the joke.
But that was one of the biggest takeaways: Bourdain loathes Guy.
Amid his rant, a long and uncomfortable diatribe that at times seemed very much planned and other times seemed to be off the cuff, Bourdain used the word f*ck no less than 100 times, as a noun, as a verb, as adjectives and adverbs.
Anthony clearly had a plethora of f*cks to give… and give… and give again.
He used the word so often it almost came off like a tic. It was distracting and really undermined his brilliance, which was already difficult to experience considering his bitterly expressed rants about Food Network's celebrity chefs. And too, his crass quips about hookers and anal sex and his numerous punch lines about blowj*bs often (even most of the time) fell very flat.
He tried desperately to be funny. But I wasn't working. For instance, during a rant about how much he hates the show Man v. Food Nation, Bourdain told us that the Travel Channel show was huge in countries like Yemen, Iran, Syria (he mentioned several Middle Eastern nations), joking that in these countries the TV show was basically an ISIS recruitment promotion. That joke might have worked (MIGHT HAVE) had he not mentioned ISIS two or three more times. His delivery, especially in regards to his humor and punch lines, came off very unrehearsed, poorly timed, and worst of all, only occasionally funny.
To be honest, he sort of seemed high.
In his hourlong performance there were a couple of moments in which we saw a more vulnerable and likable Bourdain. His stories involving his daughter were sweet and human and gave us a glimpse of the 59-year-old as "dad." And on a couple of occasions, when his stories took us to one of the distant locations that he has visited, a thoughtful, much more interesting Bourdain was revealed.
But sadly those moments were few and far between. I wanted to love Bourdain. I wanted to become engulfed with interest in his stories, experiences, and passions for food. But his negativity made that nearly impossible. I mean, the man spent 10 minutes bemoaning America's love revolution with food. Later, during the Q&A portion, he told us how embarrassed he was to have played a role in helping our country's food trend happen.
Despite most of the people in the room being fans of Anthony Bourdain and believing there was something really cool about the guy, Bourdain said he'd stopped trying to be cool years ago. "I'm no longer cool."
He said he realized his attempts at being cool were finished the moment his daughter was born. "That's when I knew I had to stop wearing my Ramones teeshirt." And yet, even that seemed to contradict the persona on stage donning skinny jeans.
And then he opened up the floor to questions… And that's when we all became enthralled with the Bourdain we knew and loved. He told stories and offered behind-the-scenes tidbits about events that happened on the show. Bourdain talked about Iran and Cambodia. He dissed beer snobs and sweet things. He talked passionately and devoutly about his love of Japanese food and how Tokyo was the city where the best and greatest food was created and served. He still said f*ck like an actor in a Quentin Tarantino movie and made a couple more jokes about fellatio, but those things weren't driving his narrative. He still offered blunt opinionated rants about a various number of topics (patriotism and gluttony included) but he also stopped talking like a bitterly spoiled brat who was deep down jealous of Guy. During the Q&A, he even spoke beautifully of Rachael Ray. During those final 30 minutes in which the conversation was driven by the audience's curiosity to get to know Bourdain's likes and dislikes, favorites and least favorites, bests and worsts, we all got a bit closer to a seemingly more comfortable and relaxed and interesting Bourdain.
And those last 30 minutes even offered his best line: When asked about a story he wouldn't share in a book or put on the show, he said, "I've snorted coke through uncooked penne."
But what struck me as odd was how, during those 90 minutes, Bourdain didn't talk about himself at all. In fact, it was shocking how little time he spent discussing any part of his personal narrative. Oh, he talked about his accomplishments and his Emmy awards and his glorious experiences with foods in various geographies. But candid stories about himself involving where he came from or who he loves (other than his daughter) or about mistakes in which he learned valuable lessons were all but avoided. He told a joke or two in which he was the point of reference. But that was rare.
During those 90 minutes, I learned more about Bourdain's hatred of Guy Fieri than I did about Anthony Bourdain. His 60-minute planned show was nearly void of anything remotely helpful, thoughtful, or personal. But perhaps Bourdain doesn't like talking about himself. Maybe becoming vulnerable with his own story feels foreign, a place he's unwilling to visit or share, a part of his life that he feels is better left unknown.
Viagra is for the treatment of inability to get or keep an erection and similar states when erection is of low quality. When you buy remedies like cialis from canada you should know about cialis online canada. It may have a lot of brands, but only one ATC Code. Erectile disfunction, defined as the persistent impossibility to maintain a satisfactory hard-on, affects an estimated 15 to 30 millions men in the America alone. Sexual health is an substantial part of a man's life, no matter his age etc.