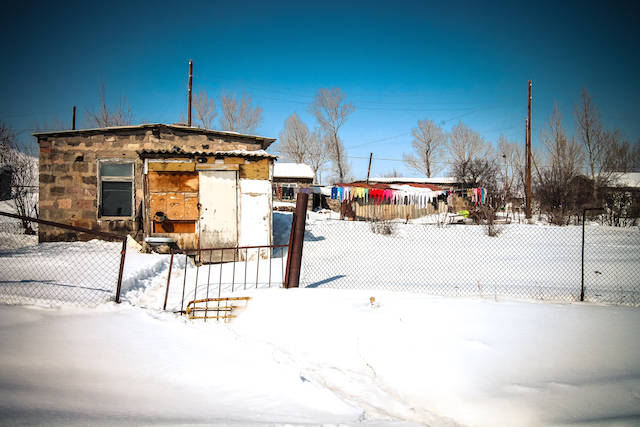 Across the snow-covered mountains that surround the region of Amasia, light from the winter sun glistens against the ice, making it difficult to see. The air is dry and thin atop of this range, a cluster of high rolling hills that run north and stop just shy of the border that Armenia shares with Georgia. Life is never easy in the northwest corner of Armenia's Shirak province, but for no less than seven months a year winter makes the uneasy life nearly impossible sometimes for families who live amid the valleys and on the ridges of this tundra. A majority of those who call Amasia home are considered to be among Armenia's poorest, most vulnerable people.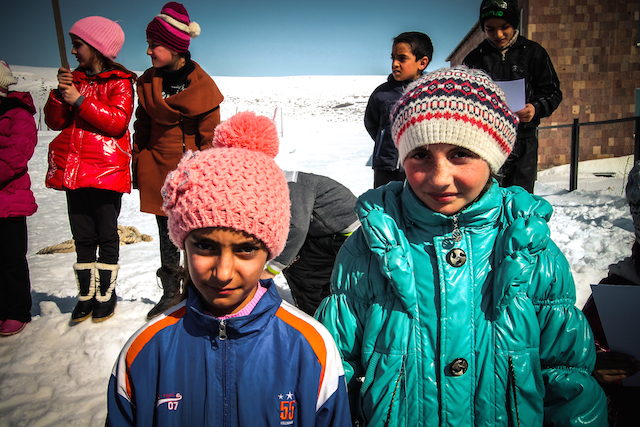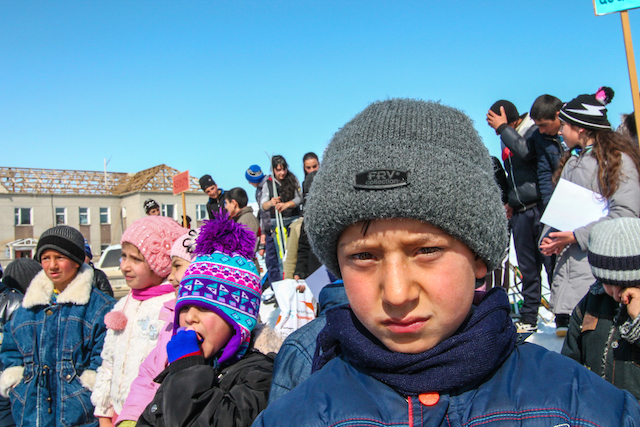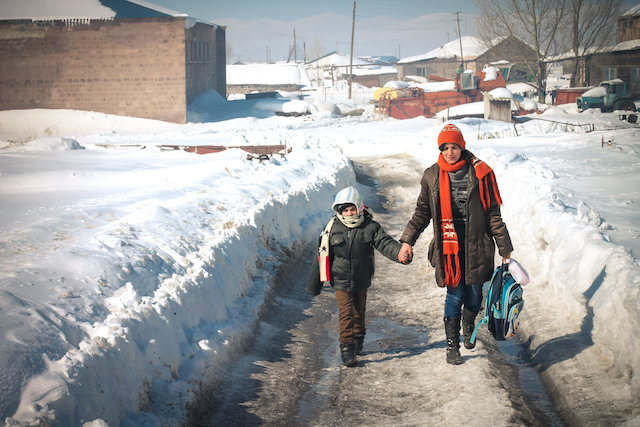 I've witnessed some of the worst poverty in the world. I've seen the slums of Nicaragua. I've witnessed the hardships of Kentucky's Appalachia region. I've walked among mud huts in Uganda's Gulu District. I've played "Mother May I" with orphans at a home in Cluj Napoca, Romania. In my travels I've learned a great deal about poverty. I know its effects. I know that sometimes its effects are easily reversed and that sometimes its deeds take years to turn around. I know that sometimes its consequences can be easily seen, but that sometimes the darkest byproducts of poverty are the kind you don't see or can't. But on this trip to Armenia, I've experienced a new kind of poverty, a kind that I've never fully seen before, a kind that forces one to not only surrender to or fight the effects of destitution but do so against a severe and bitter climate amid an abominable geography.
Seven months of hard winter amid an intolerable topography put the thousands of children who live in Amasia's villages among the world's most helpless.
That's why we chose to come to Armenia, to shine a light on the struggles of a country and people in which many people in the United States are unfamiliar.
The families here have broken down homes—walls with holes and cracks, floors that are rotting and can't handle the weight of a few hundred pounds. Most of them don't have running water or electricity. They use outhouses and their bathtubs are outside next to their dog pens or chicken coops. They use wood stoves to boil water for food and baths, to bake bread, and to keep a room or two in their homes warm. Few trees grow in these tundra-like conditions, so they have to collect, dry, and burn horse and cow dung as a substitute. Most moms and dads don't have jobs and depend on unreliable odds-and-ends work to make ends meet, which rarely happens. Nobody has access to birth control, so often their families grow to six or seven children very quickly. Health care is rarely available. Kids often go to bed hungry or with growling unsatisfied tummies. Which is why their bodies stop growing and their teeth rot and sometimes fall out prematurely. Often times, due to the lack of work, fathers travel for long periods of time to Moscow or St. Petersburg to find work, leaving mothers to run homes and small makeshift farms. Though parents practically give up everything in order for their children to go to school, their educations rarely save them from falling into the same generational traps that befell their fathers and mothers.
And for seven months out of every year, their difficult lives are lived amid sufferably cold temperatures, snow storm after snow storm, and a dry thin air that almost takes your breath away.
Their aged faces tell their stories. Their empty eyes punctuate just how hard life feels. Their slow and careful swaggers showcase their lack of hope.
Last October World Vision started a new work amid the villages and towns of Amasia. Nearly 2500 kids have signed up for the sponsorship program. More than 500 kids have already found people who would become their cheerleaders and supporters. But so many more are still waiting, hoping that somebody might click on their name and face and sponsor them through World Vision.
I met my little Armenia child on Saturday. Angelina's big brown eyes melted my heart. We were at restaurant that had wifi, so I was able to introduce little Angelina to Jessica, Elias, Adeline, and Ezra. Angelina's mom hugged me and cried tears of joy because Jessica and I made a choice to sponsor her little girl. And she said, "Angelina's dreams are possible now because you and your beautiful family." And that's my prayer, that Angelina will now have the chance to rise above the circumstances that have held her parents and grandparents and great grandparents back. But I also pray that because of Angelina, my kids will grow up with a strong desire to help people.
You can sponsor a child from Armenia right now by clicking here.
Viagra is for the treatment of inability to get or keep an erection and similar states when erection is of low quality. When you buy remedies like cialis from canada you should know about cialis online canada. It may have a lot of brands, but only one ATC Code. Erectile disfunction, defined as the persistent impossibility to maintain a satisfactory hard-on, affects an estimated 15 to 30 millions men in the America alone. Sexual health is an substantial part of a man's life, no matter his age etc.