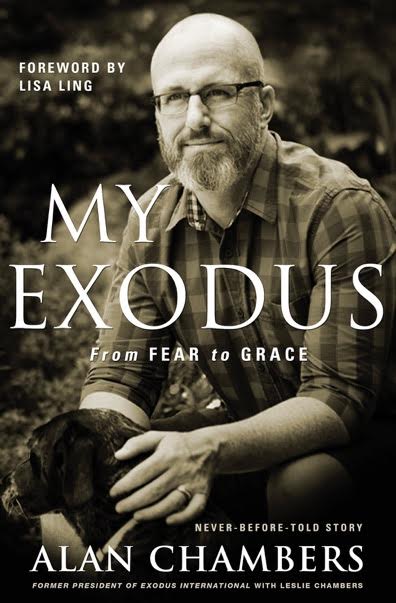 Full disclosure: Zondervan, the publishing house for My Exodus: From Fear to Grace by Alan Chambers (with Leslie Chambers) is compensating me in return for an honest review about the book.
I offer that information upfront because 1) it's the law that I disclose that information and 2) because (if I'm honest) that's probably the only way I would have ever given Chambers's book a chance.
I've never met Chambers. Last week, he and I spoke on the phone for more than an hour (because after reading his book, I wanted to interview him, which I'll post in the next couple days), but that was our first time talking. But again, if I'm honest, though I didn't actually know him, I didn't really like Alan Chambers. Despite us never meeting, I had a long list of reasons for not liking him. Up until 2013, he was the president of Exodus International, the Christian ministry well known for its mission to "pray the gay away." Over the years, I've loudly proclaimed my dislike and distrust for Exodus and its plethora of sub-ministries. I did so because I believe that many of their tactics were spiritually and emotionally abusive, counterproductive to the Gospel, and often put the LGBTQ communities in harm's way. Reading My Exodus changed none of my feelings about that ministry.  I'm happy it's no longer in existence, however, I also know that its lingering impact still haunts the livelihoods of so many people.
Which is why I expected to hate Chambers's book. Oh, I'd heard rumors that the former president of Exodus had had a change of heart, that time was softening his public stance against LGBTQ people, and that, underneath that seemingly dogmatic persona I'd witnessed time and time again on CNN or MSNBC or some other media outlet, Chambers was an actual human being.
That might be the best part about My Exodus: the story and prose almost immediately breaks down all of my assumptions about Alan Chambers. He's not a vampire. You laugh, but that's not too much of an exaggeration. I did think of him as a bit of a monster, one who wielded chapter and verse like a weapon and desired little more than to raise biblical hell for gay people who loved Jesus and raise a different kind of biblical hell for gay people who didn't love Jesus.
But that's why I'm glad I gave My Exodus a chance. Not because I agreed with the book's every nuance but because I was quickly introduced to Alan, the human being, Alan, the child, Alan the hopeful 19-year-old, Alan, the husband and father, Alan, the man who seems to be grieving his mistakes and evolving into a more gracious and less certain person of faith.
In My Exodus, Chambers writes down his personal story. And for the most part, he sticks to retelling that narrative. Sure, there are moments when he expounds on the lessons he's learned and what he believes to be true (sometimes newly true) about God; but this isn't a book about defending his former career or one that passively aggressively aims to save face. This is a story about a man who's very much in process, a man who is still learning the effects of fear in his life and desires to embrace grace fully. In talking to Alan about his book, I honestly think he reveals more about himself in My Exodus than even he realizes. Which I think is a testament to his desire to be vulnerable and honest in retelling his story.
Now, this book is certainly not a cure-all tale that makes every action or hurt that people have experienced via Exodus International all better. And Alan, I believe, knows that. But this book is indeed one that people on both sides of the Exodus idea–supporters and critics alike–should read. It's likely not going to satisfy all of people's questions or address every frustration or concern, but I think many, especially those of us who grew up in the church, will find bits and pieces of our own story amid Alan's and might be willing, in time, to give "the monster" a chance. And I say that as somebody who, despite rolling my eyes a few times while reading My Exodus and at times, wishing he'd said more or "evolved" more, feels as though Alan Chambers deserves a chance to be heard.
Though you might not agree with every thought, I think, if you give My Exodus a chance, you'll read about a man who has changed, and one who is still very much changing. In my interview, I ask Alan a variety of questions, ones that focus on his story and offer him a chance to give more detail and I also push him on some of the frustrations I felt while reading his book. But last week, toward the end of our phone call, I said, "Alan, we don't agree on every detail. And there were certainly moments when your book frustrated me. But despite that, it's a good book. You're a good writer, especially for somebody who isn't a writer by profession. And I really do hope that people, those who hate you and also those who supported you, will give this book a chance."
And I do hope you will. Because I think this is a beginning of an exodus for Alan, a journey that is in process, an important and crucial part of an ongoing story, one that reveals a man's heart and his desire to love and support those he once advocated against. 
Look for my interview with Alan on Thursday.
Until then, give his book a chance.
Viagra is for the treatment of inability to get or keep an erection and similar states when erection is of low quality. When you buy remedies like cialis from canada you should know about cialis online canada. It may have a lot of brands, but only one ATC Code. Erectile dysfunction, defined as the persistent impossibility to maintain a satisfactory hard-on, affects an estimated 15 to 30 millions men in the America alone. Sexual heartiness is an substantial part of a man's life, no problem his age etc.