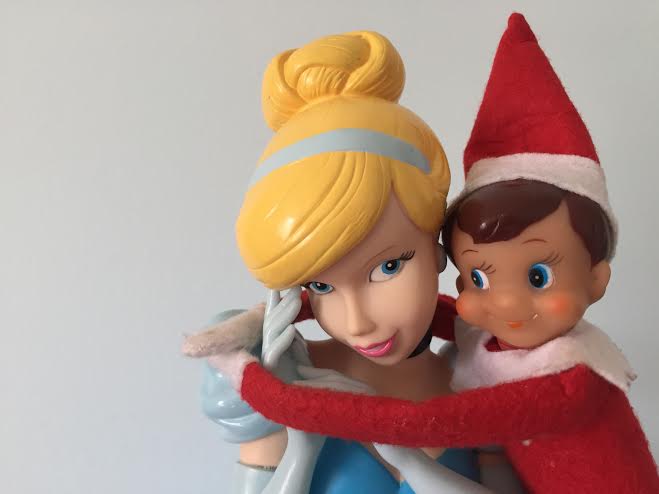 Apparently a lot of people who are parents hate Elf on the Shelf. And trust me, I get it. Or at least, I got it.
In 2009, I hated Elf on the Shelf, too. Heck, two weeks ago I sort-of-kind-of still hated Elf on the Shelf. I didn't really hate the idea, I just made fun of it when my kids weren't around.
In fact, when Jessica informed me that we were joining what I thought was the godforsaken elfing craze, I rolled my eyes and voiced with unmeasured passion my displeasure in the idea.
I knew I was fighting a losing battle considering my wife's face was bursting with an uncanny amount of excitement, a kind that is a fortress to my negativity.
"Our kids will love it," she said. "And it'll be fun."
It's likely that I rolled my eyes one more time right before going on small rant about the concept being silly, shallow, and too popular and the toy and book being ridiculously expensive. Jessica just smiled and said, "it's cute and fun and you just wait and see, mister…"
A few weeks later on the first of December, Elias was introduced to Sam, our elf on the shelf. He was only 3 and a bit of a doubter at the time, but soon, he was seemingly enjoying Sam's daily antics. And though I kicked and screamed a little bit (sometimes a lot), I eventually participated in the nightly "moving Sam around our house," helping to convince my son (and in the years that followed, Adeline, too) that Sam their elf was magically traveling 3313 miles to the North Pole each night, informing Santa about who in our house was being naughty and who was being nice.
God only knows what Sam has told Santa about me over these past several years. Though I've gone along with the whole elf routine, chances are, Santa puts me on his naughty list because I've long been a cynical jerk about the elf.
But last Monday—December 1—that changed. Last Monday I became a huge fan of #ElfOnTheShelf, a diehard advocate for our little Sam. Why? Because of what happened that morning when Elias darted from his bed, down the stairs, in hot pursuit of finding Sam. In the days leading up the first of December, as Jessica reminded Elias and Adeline of Sam's soon-coming arrival, both of them became overwhelmed with excitement. But especially Elias—every time somebody mentioned Sam, his 6-year-old face lit up like the Christmas tree section at Target.
As he hunted for Sam on that first morning, I witnessed Elias's imagination—pure and untouched by cynicism and/or reality—run wildly around our house. Then, when he discovered Sam sitting on our dining room table with a note addressed to him and Adeline, he shouted in delight, "He's here! He's really here!! Come see!!" The expression on his face was so filled up with belief and joy, it almost appeared unnatural.
I have to confess that his childlike wonder brought tears to my eyes. Partly because he's my kid and I adore him, but also because I haven't felt that kind of unbelievable joy since I was a kid and it was a glorious sight to behold.
Nothing washes away cynicism like seeing childlike wonderment. I mean, it's a kind of redemption that is unexplainable until you experience it and it washes your soul clean of what ails you. And that's what happened. I fell in love with Sam. I've started looking forward to moving him around after the kids go to bed. And I delight each morning in hearing Elias and Adeline search the house until they find their little elf.
This morning Adeline came downstairs and said, "You wanna hear the big news, Daddy?"
"Yes," I said.
"Sam was in my room! And guess what he was doing?"
"Tell me."
"He was hugging on my Cinderella doll. He's so funny."
"He is funny, isn't he?"
"Yeah, I love Sam being here."
Is Elf on the Shelf a cheesy popular holiday trend that's possibly shallow and sometimes annoying? Sure. But it's also just toy elf with a made-up story that inspires the imaginations of my kids… and I'd never want my grownup cynicism to harm my kids' spirits.
As their daddy, I want to be a champion of their imaginations, an inspirer of their creativity, and a proponent of their childlike joy-filled delight.