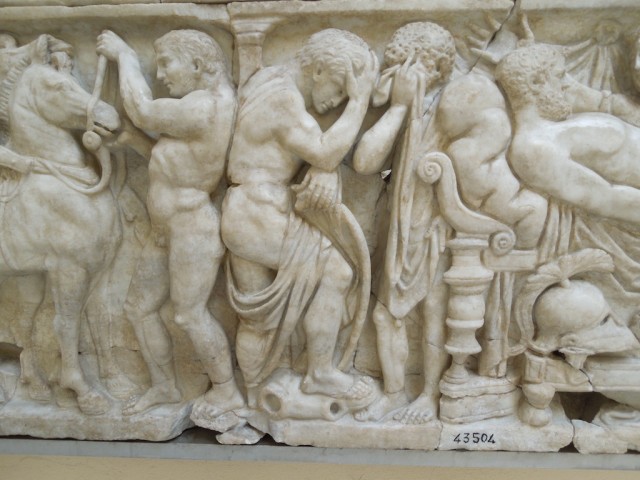 According to that Supreme Court decision on Friday, marriage is now a fundamental right for all couples, regardless of orientation, gender, and/or state  of residence. While a host of Americans have spent the last few days expressing no less than jubilation over SCOTUS's decision, other people have mourned as if they lost their firstborn in a remake of the first passover. Though the people in that latter group lament in a variety of ways—from outright anger in all caps to tear-drenched, emoticon-filled sorrow to loud and noticeable silence. But there's one common thread among the majority of Americans who believe the high court made a terrible decision: Jesus.
While a good number of people who follow Christ are celebrating marriage equality, most of those —nearly all?—who disagree with SCOTUS's landmark decision profess a strong love and devotion for Jesus.
I have a few questions for those people—those Jesus-loving folks who seemingly believe that they own the copyright on what God thinks about marriage. While I doubt my questions will change anybody's mind on the matter at hand, I do hope my inquiries will at least cause some people to pause long enough to think about their actions, their words, their posture, their faith…
What if you're wrong? I know that, for some of you, that's likely impossible for you to even imagine. But if your life is truly driven by faith, a concept of belief that is, at its core, built upon the possibility that you might be wrong, then you should be able to at least consider the chance that you might not have life all figured out. Faith without doubt isn't faith; it's cultural certainty, little more than a lifeless creed you can shout at the top of your lungs behind pulpits, write in all caps in online comment sections, and whisper under your breath like a curse whenever challenged. It's fine if you're not willing to even consider the chance that you could be wrong. But your stubbornness isn't because you possess faith, it's because you've anchored yourself to a system of ideas and it scares the shit out of you to even consider any other possibility.
But the fact remains: you might be wrong. Think about that for a moment. What if all of your "God inspired" declarations about the LGBTQ communities are incorrect? What if all of those Bible verses you point to in defense of your opinions don't mean what you think they mean? Or what if they do mean what you think they mean, except they were written with context for a particular people during a particular time because of particular circumstances. What if those laws you bind yourself to are like those other laws that you don't bind yourself to? You know, the ones that you laugh off with some mention of "grace" or "that's Old Testament"… Like that law about eating shrimp or pork or the one about wearing clothes made of two different fabrics or that law that prohibits you from letting your livestock roam in the same field as other people's livestock. Or for those of you who have invited the Apostle Paul to live in your hearts, do you adhere to his other New Testament laws with the same passion that you promote his very vague words about "homosexuality," words that might actually not be about homosexuality at all. In other words, are you a male with long hair? Are you a woman who wears jewelry or makeup? Do promote the practice of women covering their heads when at your church talk? Do you start talking about context and timeframe whenever the gift of tongues is brought up in conversation?
Straight Christians love putting homosexuality on a pedestal.
But what if you're wrong? What if all of the blatant statements you've made against gay people are little more than wasted words, spiritualized hatred that you've mistakenly packaged with Christ? What if all of the time/energy you've spent fighting/debating/proclamating is just lost time/energy that could have been used for some other, more life-giving activity.
Being passionately wrong has consequences, and that's true regardless of whether or not you present your views hatefully or with so-called Christian love.
What if you're right? What if God loathes anal sex between men as much as you do? What if, upon learning about the Supreme Court's decision to extend marital rights to all people, God did exactly what you suggested on Facebook that God did? Because it's certainly possible. What if, just like you, amid heatedly debating topics and ideas regarding homosexuality, God starts daydreaming about the End of the World? And that, maybe just like you, God has to fight the temptation not to smile? Why? Because God knows just how much pleasure you'll feel when, amid Heaven's wrath reigning down, every one of your Facebook friends will realize that you were right about God all along. 
Would you really be okay with being right about God? Before you answer that, consider what you've said about God, the words that you've put in God's mouth, the slight relief (perhaps joy?) that shoots through your veins every time you consider the day when your God finally declares to Planet Earth that you were right. Do you want to be right about God? Would you be okay standing before the God that you've erected at church or in conversation or online? What does your personalized deity suggest about you, about God?
And what if you're right about God? What if, like so many Christians suggest, God really is a grandiose being with borderline personality disorder, either the best and the greatest God ever or the worst and the most terrible God ever?
Still, even if you are right, does mimicking your version of God on Facebook help your God or satisfy you?
If you're a parent, what is your reaction to Friday's verdict teaching your kids? What has your child learned from watching your actions and listening to your conversations over the last few days? Does he/she have more faith that God will take care of them no matter what or are he/she filled up with fear about the dark, ugly future you've been not-so-subtly advertising? Has your demeanor showcased a belief that God is faithful no matter what or have you communicated that God is angry and that judgment or "The End" is soon coming? Whether you want him/her to know what you're thinking or not, they more than likely do. And what they're soaking up is creating a foundation for how they will think and feel in the future. They will either mimic your fear-filled or faith-filled actions or they will be put in a position in which they are forced to overcome the foundations you've helped inspire.
What if your child is gay? That thought might terrify you. Still, what if they are? What if they're sexuality is fluid, somewhere on a spectrum between straight/gay? Has your reaction created an environment in which he/she will be free to tell you what they're feeling or have you set yourself up to be the last one to know?
I've seen a lot of vile reactions from Christian parents over the last few days. In some cases, their thoughts have foretold just how great they fear for their kids. As somebody who grew up in a pre social media culture, I knew every time my parents were fear filled, worried, anxious… and even when I didn't know why, I almost always felt fear, worry, and anxiety whenever they did.
Who have you silenced? Many Christians who are supportive of marriage equality remain silent because they fear the harsh backlash from Christian friends and family. Because among Christians who are vocal about their disgust for marriage equality, creating backlash toward believers who might feel differently than they do is considered holy. On Saturday, a friend sent me a DM: YOU'RE IN FAVOR OF GAY MARRIAGE? I almost just ignored his inquiry, knowing that any answer except "heck no" was going to create drama that I didn't feel like engaging. And I was right, his answer to my "yep" was utter shock and disappointment, as if all of my spiritual, personal, relational worth was hinged on me hating marriage equality as much as he does.
Have you ever thought about how many people you silence? Push away? Exclude? There are countless pastors across the United States who personally have no problem with SCOTUS's decision. But they can't say that aloud in a public forum, at least, not if they want to keep their jobs or their churches. Because in evangelical churches, the Christians who often come off as bullies toward anything involving LGBTQ are rarely willing to agree to disagree. They almost always will fight the cause, threaten some form of church-oriented coup, $top their $upport, or seek to have the gay-affirming pastor or the gay-affirming assistant pastor or the gay church volunteer removed.
Do your words keep your friends in the closet? Do your opinions silence potential LGBTQ supporters? Does your certainty about what God thinks regarding gay people paralyze the good work of God?
What are you losing in this fight? Because chances are, whether or not you're willing to admit this, you're losing, missing, not experiencing something because of this impassioned fight you're engaging. And if it hasn't happened, there's a good chance it will. Are missing out on knowing and loving some amazing people? Are you gambling with the future relationship between you and one of your children? Are you so distracted by this mission that you're failing to engage what's truly important in life? Is it worth it? In the grand scheme of this life and even the next life, is it really worth it?
Is it because you're afraid? Are you bored? Are you so intoxicated by your religion that you've lost the ability to just love people, even if they have no plans on eventually agreeing with you on this one?
Isn't God, even the God you believe in, big enough to handle this without your commentary? Does the answer to that last question scare you?
It's okay. It scares me too.
Viagra is for the treatment of inability to get or keep an erection and similar states when erection is of low quality. When you buy remedies like cialis from canada you should know about cialis online canada. It may have a lot of brands, but only one ATC Code. Erectile disfunction, defined as the persistent impossibility to maintain a satisfactory hard-on, affects an estimated 15 to 30 millions men in the America alone. Sexual soundness is an substantial part of a man's life, no matter his age etc.