That was how the young charismatic priest ended his prayer, by repeating once more a request for heaven to have mercy on his beloved country, Armenia. Later we learned that God's mercy is a holy idea that believers in this onetime state of the former Soviet Union have weaved throughout their Church's liturgy for centuries, a longing I swear I can see weighing on the brows of a multitude of men and women who call Armenia home. Since walking out of the airport on Wednesday evening, I've been unable to escape the gnawing feeling that a real and present sadness hangs over Armenia, a mostly unspoken yearning that seems almost etched onto the beautiful faces of these God-loving people. Maybe I'm over emotionalizing my experience. Or maybe the melancholy I'm sensing is a sincere hunger for mercy from the Almighty.
While I'm not ready to make blanketed conclusions about a people I've only shared space with for two days, this country's plight seems not only present in the social and economic poverty that challenges this nation in its here and now but deeply rooted in the long and pain-stricken injustices it's endured throughout its history. Its greatest generational scars exist because of the Great Massacre of 1915, a genocide enacted by the Turks in which 1.5 million men, women, and children, a people who mostly identified as followers of Jesus, were murdered.
One New York Times headline from 1914 broke the story: Erzurum Fanatics Slay Christians, Holy War Proclamation Followed by Destruction of Armenian's Buildings
This tragedy still haunts the Armenian people, partly because it was an annihilation that impacted the genealogy of every family, a story that personally affects every living Armenian today. But perhaps the biggest reason the killings of 1915 still cause people to become mournful and reflective today is because the genocide is still widely disputed. Turkey denies it was a genocide at all. And countries like the United States and Great Britain also refuse to acknowledge its realities because of political and international relationships with Turkey and other Middle Eastern countries. In the United States, a politically charged debate regarding its refusal to call the events of 1915 a genocide happened once more in 2010.
You can read more about Armenia and the genocide here.
Though the two countries share a border, no relationship exists between Turkey and Armenia. But the genocide isn't the only history that weighs on Armenian. These are also a people who are still trying to outlive its Soviet roots. Its relationship with Azerbaijan on its eastern border is hostile. Even the effects of a massive earthquake in 1988 are still evident in certain parts of the country's infrastructure.
Its dark history is a vivid backdrop to the challenges it faces today, challenges that include one-third of its population suffering the symptoms of poverty. Amid impoverished conditions, more than 25 percent of Armenia's youth suffer depression. Abuse of alcohol and drugs are on the rise. Stunting, the poverty and malnutrition-induced condition in which children are undersized and underdeveloped, affects 1 out of 5 kids. Unemployment and economic woes also plague the Eurasian country.
It's no wonder Armenia's consistent prayer to God is for mercy.
Today, after the priest prayed that prayer one more time, I was filled with questions: What does God's mercy for Armenia look like? How, amid suffering, are they still able to pray that prayer with conviction and/or belief that God might do something? And what role should we, a people who are rich and known for helping the poorest of the poor, become the active mercy of God for the children of Armenia?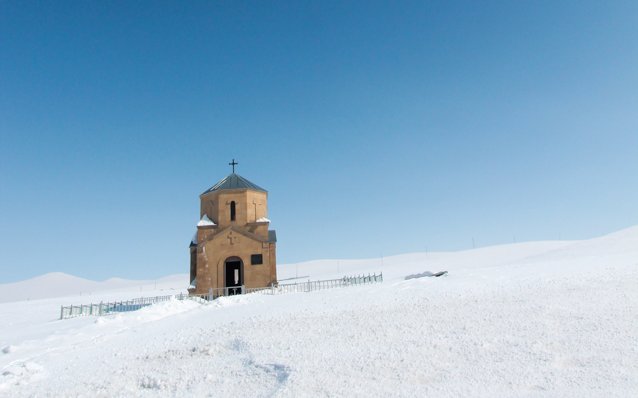 Right now, in a community 50 miles north of Gyumri, in the snow-covered hills along the Georgian border, there are more than 1000 children in crisis, suffering the longstanding and various effects of poverty. These children are dreaming of God's mercy. They are, hoping to become a part of a new Armenian generation, a generation that will break the cycles that poverty and tragic history often cause. They are all waiting to hear the good news of God's mercy that somebody from the United States has decided to sponsor them.
They need our help, friends. Sponsorship through World Vision is a proven path for helping communities turn the tide. If you are reading this post, would you consider becoming a part of God's mercy for one kid by sponsoring him or her through World Vision?
Together we can help lift the cloud of sadness that lingers over this country's people. Together we can bring nutrition, clean water, health and wellness, and emotional and spiritual nourishment to the children who are suffering the most. Together we can bring a good answer to the prayer that's threaded through the liturgy of Armenia's church, that God would have mercy.
Please sponsor a child from Armenia today.
Viagra is for the treatment of inability to get or keep an erection and similar states when erection is of low quality. When you buy remedies like cialis from canada you should know about cialis online canada. It may have a lot of brands, but only one ATC Code. Erectile disfunction, defined as the persistent impossibility to maintain a satisfactory erection, affects an estimated 15 to 30 millions men in the America alone. Sexual health is an substantial part of a man's life, no question his age etc.