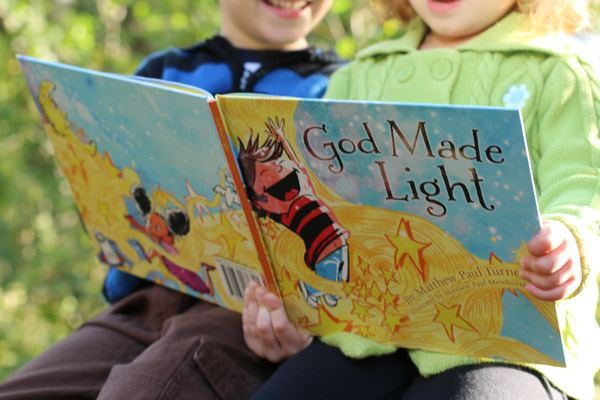 Fatherhood changes me. More often than I imagined, Elias and Adeline (and soon, our new baby boy) affect how I see and experience life. I suspected this would happen but I didn't know to what degree their lives would impact my own. But almost immediately, as soon as the midwife put Elias in my arms, his tiny 8-pound presence began shaping what I believe to be important, enjoyable, and true.
Still, even though he's 6 and has already started calling me "Dad" on occasion, watching him grow up (and Adeline, too!) continues to mold who I am and who I want to be.
Some of my favorite moments as a father happen right before their bedtime (some of my most challenging moments also happen right before their bedtime). But whether they are acting like angels or trolls, bedtime can often create the opportunity or space for good stories to get told, for deep and curious wonderings to get said out loud, for the most hilarious moments to occur, and for important lessons and ideas to get talked about.
And often these amazing moments are sparked by a book. While I knew that my kids would likely love being read to, I didn't have a clue to what extent my kids and I would fall in love with certain books. But that's exactly what happened. Somehow, while snuggling in a warm bed and reading books like Where the Wild Things Are or Goodnight Moon or Llama Llama Red Pajamas or one of the many Dr. Seuse classics helped to create some of the most enjoyable or funny or sincere moments with my kids.
But one thing I noticed early on while reading to Elias was that there seemed to be a shortage of fun, easy-to-read, creative, and age-appropriate books about God. Oh, we read lots of books about God. But out of those that we read, so many of them failed to inspire the same moments that wockets and pockets or llamas or quirky odes to the moon seemed to inspire. For whatever reason, most of the books that even hinted about God (and let's face it, most of them do far more than hint), none of them became Elias's favorites or the kind of book that he'd request over and over.
I don't know why this was true. Maybe it was me. Or maybe it was Elias. Or perhaps the books that we engaged simply lacked the "magic" that other books possessed.
I certainly didn't dwell on this too much. However, I do remember that shortly after Adeline's birth (Elias was 3) that somewhere in the back of my mind, an idea began to evolve. Like most ideas, it started as a question: is it possible to write a children's book about God that was fun and inspiring and might develop the same bond with kids that so many of other books seem to do? And if so, what would that kind of book look like? What would it sound like? What would it be about? And if a children's book like that were possible, would I even have the chops to write it?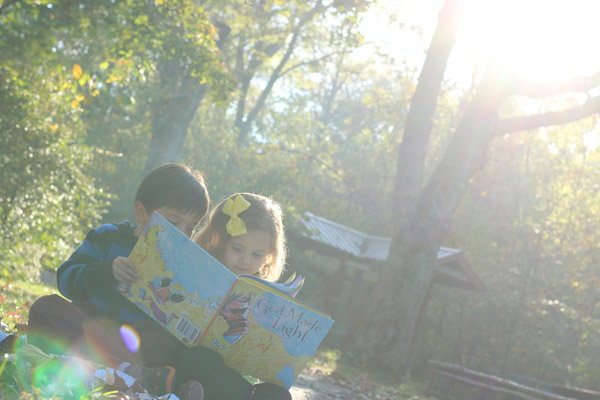 Eventually, my questions sparked a couple of conversations with Jessica about children's books and about whether or not she thought I should invest time and creativity into developing an idea. Without hesitation, Jessica looked at me and said, "You're a writer—a good writer. And from the moment I knew that I was pregnant, I've always pictured you writing a children's book."
A few days later I was sitting at Starbucks, laptop open, brainstorming ideas. After a handful of bad concepts—a couple of them terrible—I decided on a theme: creation or Creation.
Now, don't laugh, but here are the very first lines that I wrote:
God made this.
God made that.
God made them both in no time flat
This is big and that is small
Still, God made them, size and all.
God made these.
God made those.
Those are red. These have toes.
Fast things, slow things, things that crawl.
These and those, God made them all.
Okay, you can laugh. Eventually, I narrowed the concept to God making light. Light is easy to comprehend. It's both practical and magical, a simple enough concept that's layered with mystery and symbolism. And too, as a person of faith, I not only believe that everything started with light but that Jesus said that we are also light. So as a theme, "light" provided a wide array of ideas and imagery in which to work with.
For three months, off and on, I worked on the verse for a children's book, attempting to capture with words what it might have been like when God created light. As I developed the concept, I let numerous people read it. I gave them permission to tell me what they liked, what they didn't like, and what they believed worked and didn't work. And then I worked on it some more…
Let there be light!
That's what God said.
And light began shining and then started to spread.
In flickers and flashes,
In spills and in splashes,
Shine began shining across nothing but blackness.
Light glared and glimmered.
It flared and sparked.
And wherever light shined,
Dark stopped being dark.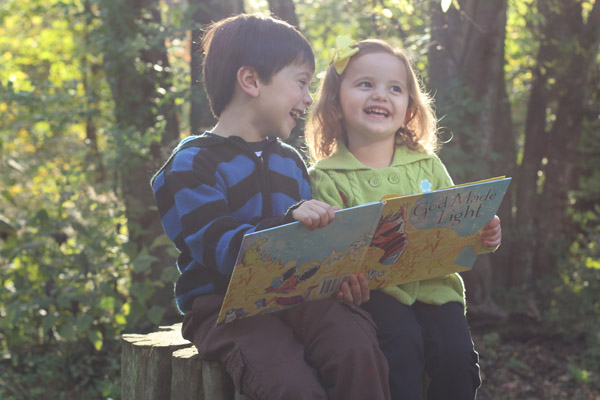 Working with rhyme and meter took me back to my roots in writing, to my middle school days when everywhere I went required that I carry a notebook with me just in case I was inspired to write a poem or song.
Several months after I finished, I presented the idea to my literary agent, Greg Daniel. He loved it. We began working on a book proposal, which was honestly a new concept for me. Though I'd written more than 16 books, I'd actually never needed to write a proposal before. I mean, I wrote a short summary of my idea a time or two. But a full blown proposal? Never.
Greg and I (with a little help from my wife, Jessica) put together a fantastic proposal for the book that we were now calling God Made Light. Not only did the proposal outline in detail the concept, but it also contained pre-endorsements from people like Ann Voskamp, Sandi Patty, Angie Smith, and a variety of others who were happy to add their name and support to the idea.
Because everybody I shared the idea with loved it. I mean, they really loved it.
Greg sent the proposal to 11 publishers. The immediate response from acquisition editors was excitement! I mean, it was almost odd how positive the reaction was. Every single editor except one took the concept to their pub boards. Every single pub board loved the idea. However, over the next six months (one editor took the book to her pub board twice), we received 11 declines. Some publishers said no because of budget reasons. Others said no because the children's book industry was difficult to break into. And a couple publishers said no because I was the book's author. That last one stung a bit.
We received the final no three days before Christmas. We were on our way to the airport when Greg called. I tried to be positive. But I was fighting tears.
Jessica grabbed my hand. "Matthew," she said, "I believe in you, baby. And I believe in this book. We'll publish it ourselves."
However, at the time, we couldn't afford to publish it ourselves. We didn't have any debt except our mortgage. And we certainly weren't struggling. But we also knew that, unlike self-publishing regular books, self-publishing a children's book was expensive. To do it really well was a lot more expensive.
Almost 2 years later, Jessica said, "Let's do this."
I knew exactly who I wanted to ask to illustrate the book, my longtime friend, Matthew Paul Mewhorter! (Yes, that's his real name.) Matthew and I have worked together before and so I was hopeful that he'd be up for doing it again.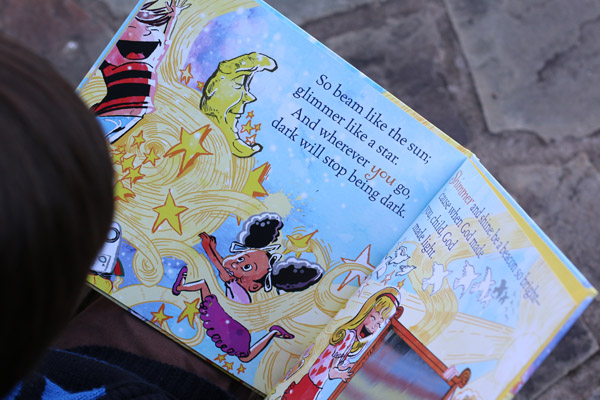 Almost immediately, Matthew began working on sketches for the book. After a few rounds of proofing the storyboard, Matthew began drawing, inking, editing, and all of the other things that artists do and redo, etc.
Contact Matthew Paul Mewhorter here.
Matthew's artwork in God Made Light is beyond my expectations. It's gorgeous, a brilliant display of color, movement. No doubt his talent brought my words alive.
Meanwhile, after seeing some of the initial artwork, DaySpring (the faith division of Hallmark) started working on a product line to go along with the book. That blew me away! I mean, what? A product line?! Are you kidding me?
The God Made Light product line by DaySpring includes a floor puzzle, a nightlight, and a collection of encouragement notes for kids. You can see all of it here or by clicking on the image below.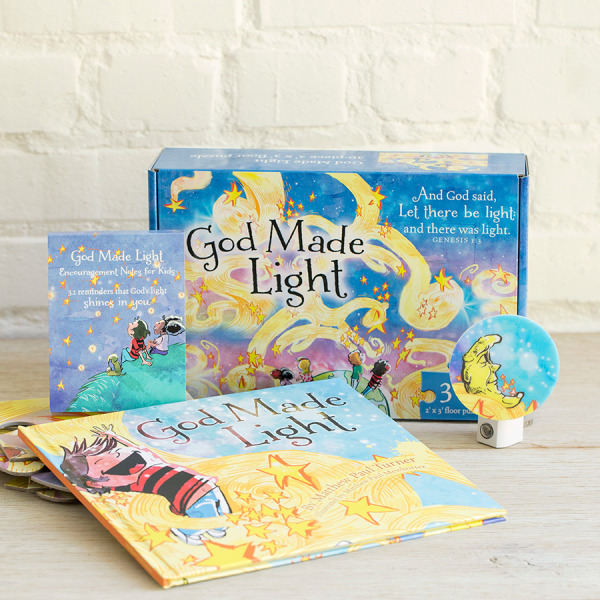 The final product is beautiful. Holding God Made Light for the first time was surreal.
But I'm also nervous. Because to do this well did not come cheap. But despite my slight anxiety, I believe in it.
Did I create a book about God that, like all of our favorite children's books, might inspire beautiful moments and memories between parents and kids? I'll let you and your kids decide that. But I'm hopeful that this book will accomplish that for many.
Every word in this book is intentional. Every detail in the artwork is there on purpose. Because I wanted to create a book about God that was enjoyable to read, both for parents and kids.  I wanted to create a book that tells our little ones that God delights in who they are. I wanted to create a book that reminded all of us that we are created to shine brightly.
And I wanted that book to be simple, fun, rhythmic, and full of color. And that's why I released God Made Light.
For our kids. For us.
For a little more light to shine brightly in this world.
You can buy God Made Light at Amazon.com (and yes, it is Amazon Prime approved).
And please, would you consider sharing this book and products with your family and friends? I would be most grateful.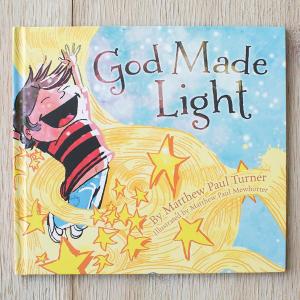 Viagra is for the treatment of inability to get or keep an erection and similar states when erection is of low quality. When you buy remedies like cialis from canada you should know about cialis online canada. It may have a lot of brands, but only one ATC Code. Erectile dysfunction, defined as the persistent impossibility to maintain a satisfactory hard-on, affects an estimated 15 to 30 millions men in the America alone. Sexual health is an substantial part of a man's life, no question his age etc.