Dear Amazon,
My name is Matthew Paul Turner. If my name doesn't ring a bell, chances are, you'd definitely recognize my credit card number. My wife and I—proud Amazon Prime members!—do a majority of our  shopping online at Amazon. Because it's convenient. And because you've made buying almost everything—from diapers to wood carving knives to books and entertainment—easy.
Not only do I shop at Amazon, but as an author who's written numerous books for a variety of publishers, I've also faithfully sent my audience to Amazon to buy both my books as well as the books of hundreds of other authors.
And my next book—my first in 4 years—releases tomorrow (Tuesday, August 19).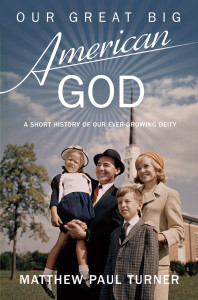 As you might expect, I'm excited about the release of Our Great Big American God: A Short History of Our Ever-Growing Deity. I worked for more than 2 years on this book, researching, writing, and editing. I'm proud of this book and am eager for people to experience it.
But that said, I'm also anxious about its release, too. You know why. Because my new book is being published by Jericho Books, and as you might know, Jericho Books is one of the many Hachette Book Group imprints.
Yep, I'm a Hachette author. And you don't like Hachette right now. For that reason, for the last three months, you have treated me and my new book like lepers. Basically, you've boycotted my book. That wouldn't be a huge deal if you didn't command 50 percent of the publishing industry, including 65 to 70 percent of all ebook sales. And yet, according to you, as of August 18, my book isn't available as an ebook despite you knowing that it is.
But you're the publishing industry god, which is why it's been quite upsetting to see my book's listing at your site appear dead, as though you have no idea that it releases tomorrow, as if you and I haven't engaged in a professional relationship for the last ten years. So that's why your refusal to list my book's Kindle availability sort of hurts, because we've worked with each other for quite some time.
However, most hurtful to me and my new book up until now has been your decision to take away my ability to use your site to pre-sell my new book—hardcopy or ebook. Presales matter as you know. Preselling a book is a practice that helps spark buzz, interest, excitement, media, and of course, sales. And you took away my ability to do that on Amazon.
And at first I thought that was where your boycott stopped. But I was wrong. At least, according to how you've treated other Hachette authors with new book releases, I was wrong to think that.
Listen, I get it; you're not happy with Hachette right now. For months the two of you have been at odds with each other, negotiating the cost and pricing of ebooks. According to you, it's far bigger than that; you say you're negotiating the future of publishing. And perhaps you are. While I thought the letter you wrote to readers was slightly melodramatic, I'm also quite sure that Hachette isn't pure in this debate. Heck, maybe Hachette's even being stubborn and/or old fashioned.
But that's business, right? Negotiations between two large conglomerates is rarely pretty, and often it becomes ugly and unfriendly and extremely difficult. But of course, usually the negotiations stay inside boardrooms or on conference calls.
But not this time. You changed that.
Earlier this year you decided to make these negotiations personal, very personal. You made the choice to limit the potential of all Hachette authors. You turned a host of authors into your pawns.
And again, I get it; it's business! And while I think your decision to use authors in this debate as negotiating tools is horrible, I get it. And so far, I've managed. I've improvised. It's not been easy. But you knew that it wouldn't be. You didn't want it to be easy. That's why you used me and my book in your negotiations. Because you can. You own the publishing industry and you can do whatever the hell you want. And because all is fair in love, war, and capitalism.
Which is why I'm writing. Because my book releases tomorrow, Amazon.
And because I want you to stop boycotting my book. I've been watching what happens to other Hachette authors when their new books finally release. Sure, you turn the link's lights on. But you don't treat them same way you treat other books who have different publishers. In fact, you treat them like Lady Tremaine treats Cinderella, like the stepchild you never really wanted in the first place.
Listen Amazon, I'm not trying to pick a fight with you. I might feel like David in a fight against Goliath, but I also love Goliath! I need Goliath. And because I'm not JK Rowlings. I can't afford to make you angry. I'm not a New York Times best seller. Heck, I've only broken the top 1000 on Amazon twice. I'm small potatoes compared to many (most?) of the names on the Hachette author list.
Every single sale matters to authors like me. Every single media hit makes a difference. And every single limitation matters.
Which is why I'm asking you to be fair. For three months, I've been quiet as you've made my new book a part of your negotiating tactics. I've tried to stay out of the debate between you and my publisher. Because I love both of you. And I need both of you. But my book releases tomorrow. Which is why I'm writing, to ask that you show us Hachette authors a little mercy.
Limiting presales is one thing, but please, stop limiting the potential of our books on and after their release dates.
I've worked far too hard on Our Great Big American God for it to be reduced to a negotiating tool in your ebook pricing negotiations. I've poured too much into this book to simply just sit back and watch you treat it like it's less than it is.
I need Amazon. Just like I need Barnes & Noble, BAM!, and all the other bookstores. Because you're huge! And I am small. And because my book is good and it deserves better. So please, show us authors some mercy. Keep the negotiations in the conference room. And let us sell our books.
Sincerely,
Matthew Paul Turner, author.
UPDATE: Amazon.com has made my book available for preorder! And they've added the Kindle edition!! Thank you! Not sure if it's a coincidence or not… but thank you!
UPDATE #2: The hardback edition of the book is "temporarily out of stock"…
Viagra is for the treatment of inability to get or keep an erection and similar states when erection is of low quality. When you buy remedies like cialis from canada you should know about cialis online canada. It may have a lot of brands, but only one ATC Code. Erectile dysfunction, defined as the persistent impossibility to maintain a satisfactory hard-on, affects an estimated 15 to 30 millions men in the America alone. Sexual soundness is an substantial part of a man's life, no matter his age etc.