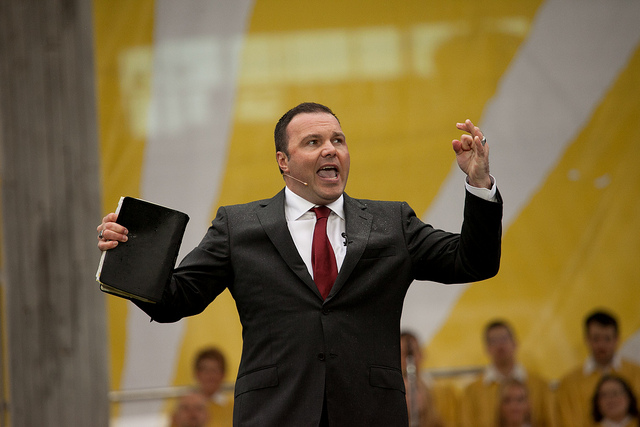 And now he needs to resign.
It's time. Hell, it was time in 2007, 2009, 2010, 2012, and six months ago.
But now—either today or possibly tomorrow because it's a Sunday!—it's time for Mark Driscoll to step down, to leave Mars Hill, to possibly even leave Seattle.
Late last night Driscoll released this apology to his church members and also to Christian Today:
While the discussion board itself was a bad idea, my decision to attack critics who were posting there (I did so by posting under the character 'William Wallace II') was an even worse idea," Driscoll said in his letter Friday, provided to CT. "I was wrong to respond to people the way I did, using the language I used, and I am sorry for it and remain embarrassed by it.

In his Friday apology, Driscoll noted that, in his 2006 book, he used the forum posts as an example of "something I regretted and an example of a wrong I had learned from."

The content of my postings to that discussion board does not reflect how I feel, or how I would conduct myself today," he told his church members Friday. Over the past 14 years I have changed, and, by God's grace, hope to continue to change. I also hope people I have offended and disappointed will forgive me.
Is there more to this apology somewhere? I mean, it's not that I don't accept Mark's apology, though I'm not really the intended audience for an apology from Mark. But if this really is all that Mark said (and that seems to be the case), then this is a pretty sad excuse for an apology, even for Mark Driscoll.
I mean, it just sounds like Mark Driscoll is tired of apologizing. Which makes sense. How could he not be tired of issuing apologies? He's apologized a lot. And this time he doesn't seem to even know who he's apologizing to or why he's apologizing. It feels forced, formulaic.
And God knows that faithful-to-fault communications guy at Mars Hill–what's his name again?–has got to be tired of writing apologies on Mark's behalf. I've chatted with Justin Dean. He seems like a nice guy, far more aware than he lets on. Though he'd never admit this, chances are even he thinks it's time for Mark to bid farewell to Seattle.
But seriously, how many times can you ghostwrite unemotional statements of forgiveness on the behalf of somebody you know to be an absolute tyrant to work for before you're secretly writing fake resignation letters and sending them to your friends?
Which is why its time for him to go. Mark hanging on to Mars Hill is like ABC hanging on to Grey's Anatomy, it's getting desperate. It's time for this part of the Mars Hill story to end. It's time for somebody else to begin writing the next chapters.
I mean, it's not like I'm suggesting that Grace needs to take the kids to Argentina while Mark secretly works as a lumberjack somewhere in No Man's Land, Canada. I wouldn't wish that Dexter ending on anybody.
But I do think that it's time for Mark to leave… for his family's sake, for his church's sake, and for the sake of all of those who Mark has hurt…
Listen, I believe Mark. I believe he's embarrassed. When your career as a pastor has managed to offend nearly every person on earth except the white people who read The Blaze, how can you not be embarrassed? Of course he's embarrassed. He should be embarrassed.
And I do believe he's probably changed. But I'm not convinced that these changes have made him a safer leader, a leader who should be trusted, a leader who should be left in charge of a church full of victims.
And that's what Mars Hill needs, a kind, humble gracious shepherd to lead them into Part 2 of the church's story.
But there can't be a part 2 with Mark Driscoll still in charge.
The only kind of apology that moves this situation forward is the kind that comes with a resignation.
So come on, Mark, man up, walk away… with Grace… and grace.
Viagra is for the treatment of inability to get or keep an erection and similar states when erection is of low quality. When you buy remedies like cialis from canada you should know about cialis online canada. It may have a lot of brands, but only one ATC Code. Erectile dysfunction, defined as the persistent impossibility to maintain a satisfactory erection, affects an estimated 15 to 30 millions men in the America alone. Sexual soundness is an substantial part of a man's life, no matter his age etc.