In his book Confessions of a Reformission Rev, Mark Driscoll might have made one confession too many. See image below.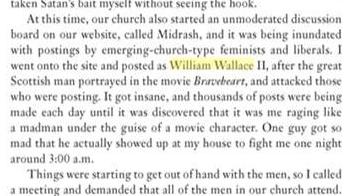 Mark's seemingly funny story about writing as William Wallace II might end up becoming his worst nightmare yet. Because Mark's Internet ramblings as William Wallace II from 14 years ago have allegedly hit the Internet. Not just at my blog. But at lots of places. You can read the backstory about "William Wallace II" here at Wenatchee The Hatchet.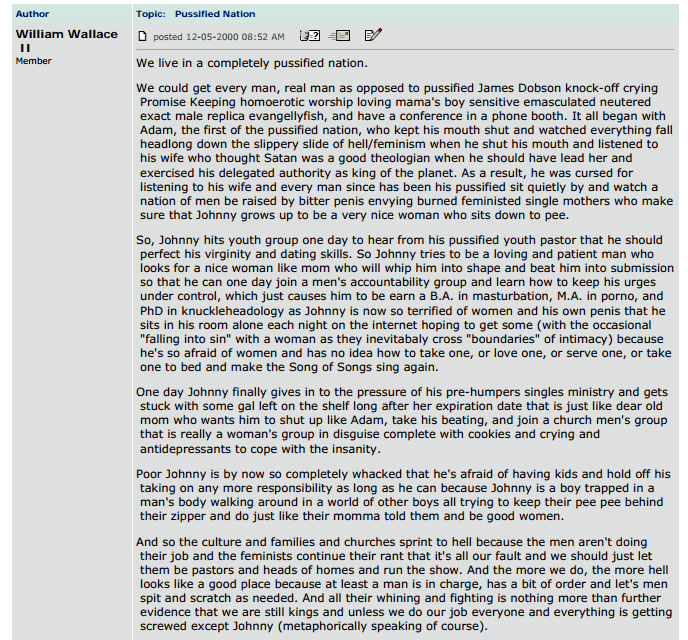 And that's just part of the 140-page conversation that you can read here.
And warning… it's a mouthful.
Viagra is for the treatment of inability to get or keep an erection and similar states when erection is of low quality. When you buy remedies like cialis from canada you should know about cialis online canada. It may have a lot of brands, but only one ATC Code. Erectile disfunction, defined as the persistent impossibility to maintain a satisfactory hard-on, affects an estimated 15 to 30 millions men in the America alone. Sexual health is an substantial part of a man's life, no matter his age etc.