Why isn't the Church talking about Syria?
That's a question I've been asking myself a lot over the last 6 or 7 months. I've also wondered why I haven't talked about it. Are we afraid to discuss it, scared of the politics involved, scared by the religious differences, or just scared by our own lack of knowledge about the crisis? And trust me, if it's fear that's keeping us from becoming involved, I get it. There are a lot of unknowns and differing opinions in regards to what's happening in Syria, a theme that seems to follow most Westernized conversations about the Middle East.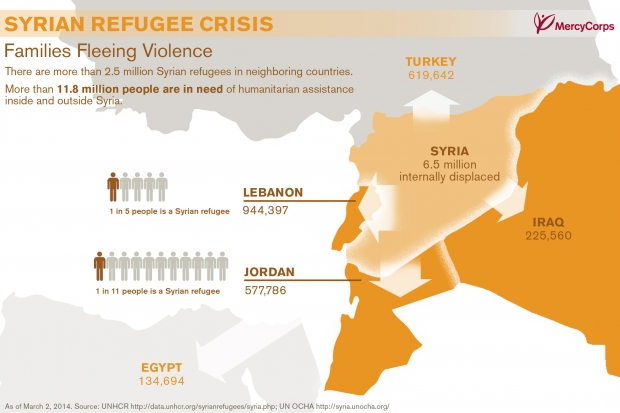 All of that said, at some point last fall, we (as in the average American) just sort of stopped talking about the travesties happening in Syria, conversations that, for most of us, started in August 2013 when we first learned that the Syrian government was using chemical warfare on its own people. (<-WARNING: Some of the images posted at that link are disturbing/graphic.)
 By the time the U.N. confirmed those reports regarding chemical warfare in December, much of the conversation here in the U.S. had died out. And too, even when we were talking about Syria, most of us weren't really talking about it. Our conversations seemed centered on debating about whether or not the U.S. should respond militarily to Syria's use of chemical weapons. That was a necessary conversation, of course. And it at least steered our attentions toward the crisis. But much of our chatter failed to reflect the whole narrative, the bigger story regarding the country's more-than 3-year-long civil war. Even now, as we're starting to hear news about Syria amid the stories and reports about ISIS and the growing conflict in Iraq, our attentions will likely be drawn away from the overall crisis to story threads that make for catchier (sexier?) headlines. 
 But maybe, just maybe those headlines can get us talking about Syria again. Because we need to be talking about it, praying about how we can respond, help, launch hope. Because our continued silence is just one more thread of the whole story, one that's affecting the futures of millions of Syrian people.
 Most disheartening are the lives of the children whose lives have been put on pause amid this crisis. A recent count by UNICEF concluded that 5.5 million Syrian children are displaced, some inside Syria and some who have fled to refugee camps in bordering nations. Again, 5.5 MILLION KIDS—five times the population of Nashville, Tennessee, and that's only counting children—have become living victims of Syria's ongoing civil war, a conflict that began in March 2011. (According to MercyCorps, 11.2 million Syrians are in need of humanitarian assistance, which is roughly one-half of the country's population.)
 Of the 5.5 million child refugees, various humanitarian organizations estimate that somewhere between 1.5 and 3 million children have fled Syria—some with their families and some without—to neighboring countries, including Jordan, Iraq, Lebanon, and Turkey. While the total number is uncertain, what we do know is this: as the massive outflow of Syrian families looking for safe harbor continues, the number of child refugees grows daily by the thousands. (Click here for up-to-date information regarding Syrian refugees.)

 The exit is so mammoth the UN predicts that, by the end of 2014, more than four million Syrians will be scattered throughout Middle East and Europe, making the Syrian conflict the worst exodus since the Rwandan genocide in 1993. 
 That's why we need to be talking about Syria: because millions of Syrian children are at-risk. What are the challenges that Syrian children are facing? According to World Vision USA:
➡︎Children are especially susceptible to malnutrition and diseases related to poor sanitation. Many suffer from diarrheal diseases and dehydration.
➡︎Children are more vulnerable to sexual abuse and exploitation in unfamiliar and overcrowded conditions. Without adequate income to support their families and fearful of their daughters being molested, parents – especially single mothers—may opt to arrange marriage for girls as young as 13.
➡︎Because of the breakdown of the Syrian health system and lack of adequate immunization, there have been outbreaks of measles and even polio in Syria and among refugee children.
➡︎Many children have lost their homes or witnessed violence and destruction. They continue to need food provisions, household supplies, education, and counseling to help them cope with their circumstances.
"I wept with families, those who have no place to live. The need was real. The need was great. It is still, now more than ever." -Sevil Omer
Tomorrow, June 20, is World Refugee Day, a date "established by the United Nations to honor the courage, strength and determination of women, men and children who are forced to flee their homes under threat of persecution, conflict and violence." 
 Which is why I'm writing this post. Because we (the American people, the Church, the storytellers and the advocates for justice) need to start talking about Syria again. And we need to do that soon. So that's why, in honor of World Refugee Day, I'm hoping, praying, begging that you might consider helping me/us spark a new conversation about Syria, a dialogue about the challenges, the conditions, the risks, the future hope of millions, and the role that the Church can play.
 Tomorrow, at 2 p.m. Eastern/11 a.m. Pacific, World Vision USA and I will be hosting a live Twitter conversation with World Vision's Sevil Omer, a onetime news reporter who, one year ago, joined the World Vision team to use her passion for storytelling and writing to retell the narratives of some of the world's most vulnerable people.
 Late last year, Sevil travelled with World Vision to the countries of Lebanon and Jordan where she came face to face with the stories of hundreds of Syrian families living in refugee camps. "I met orphans and widows," says Sevil. "I wept with families, those who have no place to live. The need was real. The need was great. It is still, now more than ever."
During her time there, Sevil engaged the stories of numerous Syrian refugees, their histories, the conditions they live in, the challenges they face, and what they think about the future. "I've seen great suffering and darkness, but I've seen hope, too. I've seen what World Vision is doing! We are making a difference in the toughest place on earth… My hope is for Christians to be open to how the Holy Spirit may be leading them to stand with Syria's children and their families. I know how prayers have changed my life during times of sorrow, pain and loss."
That's why we're doing a Twitter chat with Sevil, because she's encountered firsthand the people affected by the civil war, people who have been driven from their homes, robbed of their tangible belongings, and now live amid conditions that put the sustainability of their tomorrows in question.
READ SEVIL OMER'S SYRIAN REFUGEE STORIES HERE.
So… what are your questions regarding the crisis happening in Syria? Do you have thoughts and opinions about how the Church might help Syrian refugees? Do you have questions specific to World Vision's role in the region? Whatever part of the Syrian narrative you're curious about or have questions about, tweet them using the hashtag #WorldVisionChat and we'll do our best to answer as many questions as we can!

Please help us bring awareness to the crisis happening in and around Syria.
1) Tell your friends about tomorrow's World Refugee Day Twitter chat.
2) Use the #WorldVisionChat hashtag.
3) Share this post with friends and family.
4) Consider making a onetime donation to World Vision's Syrian Refugee fund.
5) To learn more about the Syrian crisis and World Vision's response, click here.
Viagra is for the treatment of inability to get or keep an erection and similar states when hard-on is of low quality. When you buy remedies like cialis from canada you should know about cialis online canada. It may have a lot of brands, but only one ATC Code. Erectile malfunction, defined as the persistent impossibility to maintain a satisfactory erection, affects an estimated 15 to 30 millions men in the America alone. Sexual health is an substantial part of a man's life, no question his age etc.