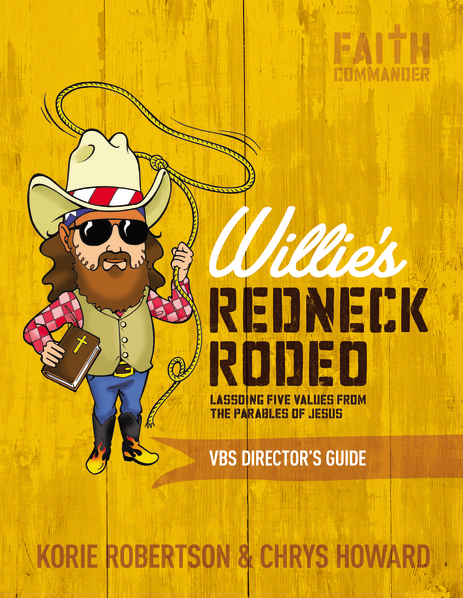 This is real.
According to the product info: Now you can bring the fun and excitement of America's favorite family, the Robertsons from the hit TV show Duck Dynasty, into your church and teach your kids the gospel at the same time! In the easy-to-use Willie's Redneck Rodeo VBS program, your volunteers will enjoy acting out the antics of Willie, Jase, Jep, Phil, Godwin, Martin, Si and others as they teach kids five of the Bible's most beloved parables. This director's guide includes instructions for everything you need to lasso your children's hearts as you teach them God's Word. Read more here.
Yesterday, I learned that a couple of the Duck Dynasty gang were releasing a study bible in October and while I certainly wondered why a Duck Commander study bible was necessary, the product didn't surprise me.
But this surprises me.
One of the reasons is because personality-branded VBS programs are relatively unheard of. I mean, I'm not saying they're non existent.
I don't dislike Duck Dynasty. In fact, I've only watched one episode of the show. And while I didn't get sucked in, I sort of get why many do. Many of my closest friends say nothing but wonderful things about the DD cast, boasting much about their kindness and generosity.
And I don't doubt that. I disagree with them on a good number of theological and social issues. But I don't doubt they are kind. And I'm sure, in context to their worldview, they're intentions are good.
But even if you believe that your intentions are good, are there no limits to how much "good" you should turn into products and sell at Christian bookstores? Doesn't anybody on their team think, "Let's be careful not to saturate the Christian market with junk?"
The truth is, Willie and kin may have no say in what publishers and Christian manufacturers create with the "Commander" name on it. Or perhaps they handpick each idea. I don't know. Watching the promo video seems to imply the former, at least, in the beginning:
Regardless, using the Duck Dynasty brand to teach kindness, obedience, and Jesus's parables to 4 to 10 year-old kids seems like a huge gimmicky stretch, one that quite honestly feels forced and manufactured to make money.
What do you think?
Viagra is for the treatment of inability to get or keep an erection and similar states when erection is of low quality. When you buy remedies like cialis from canada you should know about cialis online canada. It may have a lot of brands, but only one ATC Code. Erectile dysfunction, defined as the persistent impossibility to maintain a satisfactory erection, affects an estimated 15 to 30 millions men in the America alone. Sexual health is an substantial part of a man's life, no matter his age etc.