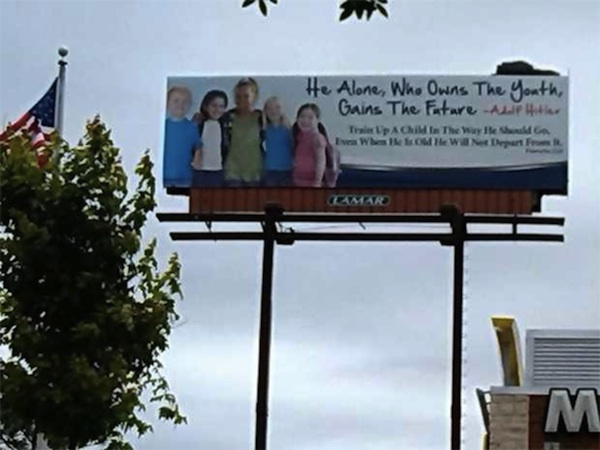 This is real. I can hardly believe that anybody would be so dumb. But somebody was/is. I mean, what were they thinking, using Adolf Hitler's words to promote their Christian children's ministry… I mean, seriously. Even if it wasn't a quote by Hitler, the message is still a frightening and gross proclamation, hardly something that Christians should celebrate as their personal mission.
Thankfully, the ministry is pulling the billboard: "We are pulling the billboard and certainly never intended to cause confusion. … Herbert Hoover would have been a far better one to quote when he said, 'Children are our most valuable resource,'" founder James Anderegg told the Ledger-Enquirer. "We are a children's organization and had honorable intentions and nothing less." SOURCE
Viagra is for the treatment of inability to get or keep an erection and similar states when erection is of low quality. When you buy remedies like cialis from canada you should know about cialis online canada. It may have a lot of brands, but only one ATC Code. Erectile disfunction, defined as the persistent impossibility to maintain a satisfactory erection, affects an estimated 15 to 30 millions men in the America alone. Sexual soundness is an substantial part of a man's life, no question his age etc.