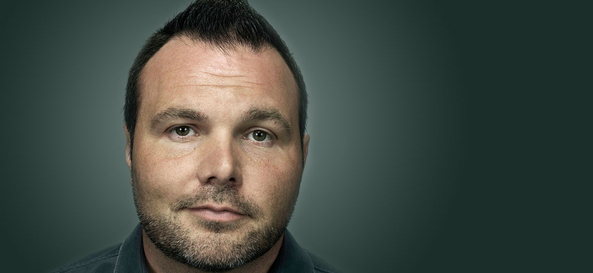 Mark Driscoll has apologized before.
That said, I'm thrilled he's issued an open apology to the members of his congregation. Like many have said, that's a promising sign.
Or is it simply par for the course? This is Mark Driscoll we're talking about, the preacher whose morphed into a myriad of shapes and ideas over the years, from "Emergent" to "Neo-reformed" to Calvinist Charizmatic to Rick Warren evangelical… and every transition has brought a new circle of friends, a new approach, a clean slate… 
But maybe this time is different…
What are the chances that he actually wrote this apology?
According to his apology, Mark's taking a break from Facebook and Twitter, which are probably good choices. He writes:  "I don't see how I can be both a celebrity and a pastor, and so I am happy to give up the former so that I can focus on the latter." That decision showcases wisdom on Mark's part.
But Mark's taken "public breaks" before, back in 2012 when he stepped down from the Acts 29 Network and The Gospel Coalition. Is this new break really "wisdom" at play or is it simply smart marketing, considering the last 6 months have been a public relations nightmare?
I echo what many—perhaps the majority of folks—are saying: It's refreshing to read Mark's honesty in this recent apology. 
But let's be honest… in Mark's world—an environment that has cultivated hurts, abuses, and wrongs among a plethora of people—an open apology is really quite easy, perhaps even typical. For a somebody whose narcissism has caused a laundry list of pains and heartbreaks in other people's lives, an open apology might just be an attempt to push a "reset" button as opposed to owning his ministry sins.
But as a Christian, I believe in grace. I believe in second and third and fourth chances. And I want to believe in those things for Mark, too. Because Jesus asks us to forgive. And I believe that Jesus is all about resurrection.
But Mark hasn't hurt me personally, so who cares what kind "grace" I'm able to muster up? However, I've talked to and heard from a long list of those Mark has hurt. Apart from this open apology, has Mark given any of them a "first chance" at making peace? What about "Amy", the woman whose body that "angry prophet Mark" said was filled up with sexual demons (spirits that he cast out)—has he given her a chance to speak her peace? Has he made an attempt to call Andrew and apologize for creating a church environment that became known for handing out discipline contracts as opposed to grace? Has he attempted to reach out to the numerous men who served for years at Mars Hill and then, upon challenging Mark's ideas, theologies, or actions were fired, dismissed, or forced to resign? Showing earthly grace to Mark starts with those he's hurt, right?

Mark's apology seems sincere. His words, though perhaps chosen carefully, are heartfelt and filled with passion. He seems to truly mean them.
But bold statements about personal brokenness are easy to digest when you haven't been affected personally,  when you're not one of the many regular people (whose stories rarely get heard because they're not celebrities) who have been abused and/or hurt by Mark's ministry tactics. Where's their grace?
In his apology, Mark confesses: "In my worst moments, I was angry in a sinful way… as I've expressed in several sermons, I needed to mature as a leader."
But Mark Driscoll and Mars Hill has been around since 1996. That's a long time, a long time that has affected thousands upon thousands of people. At what point, does "maturing" mean it's time to step down as a pastor or that it's time to take a lengthy sabbatical?
Mark writes that, "in the last year or two, I have been deeply convicted by God that my angry-young-prophet days are over, to be replaced by a helpful, Bible-teaching spiritual father…"
But either way, prophet or father, Mark's still in charge, still allowed to affect people's spirituality. Shouldn't the fact that Mark has showcased an ongoing habit of abusing souls, intentional or otherwise, cause us to receive this apology only if combined with a resignation? Or do we really not believe that people's souls are worth protecting?
I want to believe Mark's words represent true change.
I'm tempted to believe Mark's words are little more than a rebranding campaign, another new beginning to a three-four year season in the ministry of Mark Driscoll…
Are his words sincere?
Or do his words represent the end of one Mark ministry cycle and the beginning of a new ministry cycle?
I believe in grace.
But is grace is not black and white. No, grace is often gray. So rather than apologizing Mark Driscoll's second, third, or whatever chance….
I'm gonna pray for him.
I don't trust Mark Driscoll.
And trust that God will bring clarity…
And in Mark's case, God does bring clarity… every three to four years.
Read Mark's full apology here.
Viagra is for the treatment of inability to get or keep an erection and similar states when erection is of low quality. When you buy remedies like cialis from canada you should know about cialis online canada. It may have a lot of brands, but only one ATC Code. Erectile disfunction, defined as the persistent impossibility to maintain a satisfactory erection, affects an estimated 15 to 30 millions men in the America alone. Sexual health is an substantial part of a man's life, no matter his age etc.