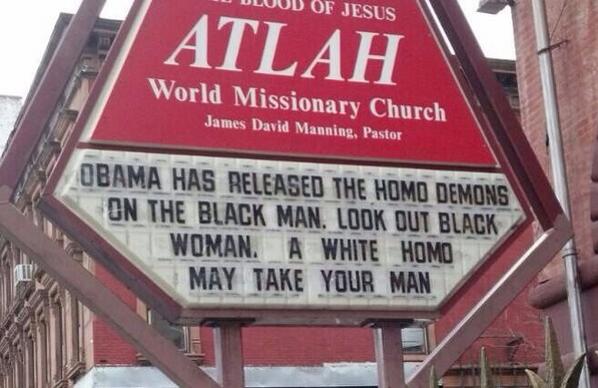 If hell exists, I believe it's for religious people who put up signs like this in front of their churches…
And for people like those in Arizona whose love for God fills them up with such hate that they work toward creating inhumane laws and legislation against strangers, friends, neighbors, coworkers, and family members (who are gay)…
Hell might exist for the American Christians whose influence and money helped Uganda pass laws making it against the law to be homosexual…
But honestly, these kinds of people are already experience some form of hell, a hell defined by ignorance and fear and anger, a hell that they don't wake up in but rather one that rages inside of them…
Friends, we better start speaking up… Christians who remain silent about the "faith-based hate" that is spewing out of the mouths and hearts of their "brothers and sisters in Christ" are a part of the problem… People who refuse to stand up for our GLBTQ brothers and sisters are a part of the problem…
YOU might be a part of the problem. Just by saying and doing nothing.
You might not make the church signs…
You might not tweet hateful words on Twitter…
You might not vote in favor of anti-gay legislation…
You might not even know where Uganda is…
But if you're not speaking up against the "American Christian evangelical anti-gay hate" machine that seems to be raging out of control in this country, then…
You.
Are.
A part.
Of the problem.
Standing up against the hate is bigger and more important than your doctrines and theologies. It's bigger and more important than whether or not you might piss off a family member… it's bigger and more important than the relationship between you and your church… Standing up for our GLBTQ brothers and sisters should be our doctrine, our theologies, and a good and holy and natural part of our relationship with the Church…
If hell exists, I believe it's reserved for people who do evil in the name of God, who hate in the name of God, who use God as a reason to be ignorant and prejudice and intolerant and anti-gay…
Please. Speak out against the Christian hate against gays. Vote against it. Challenge it.
Shut.
It
Down.
Viagra is for the treatment of inability to get or keep an erection and similar states when erection is of low quality. When you buy remedies like cialis from canada you should know about cialis online canada. It may have a lot of brands, but only one ATC Code. Erectile disfunction, defined as the persistent impossibility to maintain a satisfactory erection, affects an estimated 15 to 30 millions men in the America alone. Sexual heartiness is an substantial part of a man's life, no question his age etc.