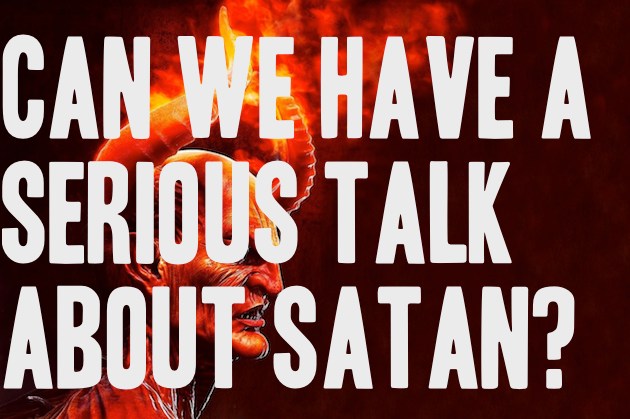 So, if things go as planned, I'll be writing on a regular basis about faith and religion for The Daily Beast. My first feature, an exploration about the topics of Satan and American Christianity, debuted yesterday.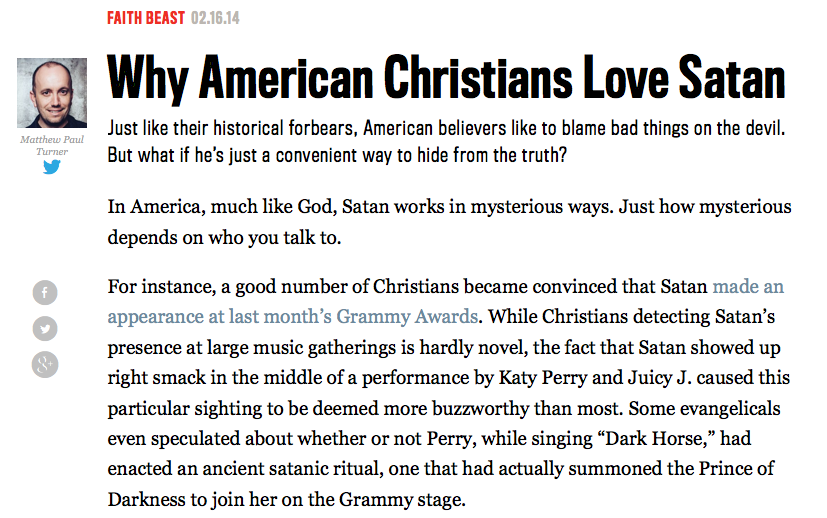 If you missed my Satan piece, you can read Why American Christians Love Satan in its entirety here.
But after you read that, come back. Because I think we need to have a serious talk about Satan.
Why? Because many of us, at least, those of us who are Christians (not all of us, of course), are seemingly in love with name dropping Satan. We don't even need a good reason to call upon the name of Evil, just disagreement or something that makes us feel uncomfortable will usually do.
For instance, on the day following the Creation/Evolution debate between Bill Nye and Ken Ham, I got pulled into a Facebook debate among Christians about the topic of Genesis 1 & 2. People from all sides of the conversation tossed their two-cents into the comment section. Some thought that the story of Adam and Eve should be taken literally, some said it was allegory, and some weren't exactly sure. In time though, the conversation became a more focused critique of the literal interpretation of the Genesis story, many people offer lengthy explanations as to why they didn't believe in a historical Adam and Eve. A couple more fundamentalist believers offered shaming rebukes of that way of thinking, and then, one of them, left this comment: This conversation is making Satan so happy.
A few people challenged the woman's assumption, a couple even asked her "how she knows what Satan thinks?"
I sort of thought the question was unnecessary. I mean, considering the woman's previous involvement in the conversation about Genesis 1 & 2, she may very well have been been texting with Satan, reporting to the Adversary about what we were talking about.
But isn't that how many of us talk about Satan, like we had breakfast at McDonald's with Lucifer. Are we really that familiar with the archenemy of God? And is that a good thing?
But that's why I wanted to write about Satan for The Daily Beast.
Because Satan, as a subject matter, fascinates me. Partly because it seems to be such an integral part of so many people's Christian spirituality and too, because it's difficult to separate fact from fiction. While the Devil might be in the details of American life, those details are all over the place. And how Christians think about Satan is interesting to me.
I think some people got the feeling that I was attempting to disprove the concept of Satan all together, which isn't the case. Proving or disproving Satan doesn't interest me. While I honestly don't know what I think is true or false about Satan, I'm intrigued how the concept of Satan affects people, our culture, and the spirituality of our people and culture.
Personally, I don't spend too much time thinking about whether there's a literal man/angel/monster running around earth trying to influence me. I believe in evil, of course, but just how spiritual that evil is or how unified it can become, and whether it ever combines into one single being and shows up at a nightclub in France, I just don't know.
But what I do believe is that the Satan as displayed within the stories of the Bible does seem to be a far weaker and less all-consuming Satan than the many versions of Satan that people believe in today.
I know countless of Christians whose words and beliefs project a huge amount of supernatural power, influence, and ownership onto Satan.
For instance, many of us talk about the Enemy like he/she/it is omnipresent. Most of us don't believe that. But that's how we talk about the devil. According to Christians, the Enemy is around every corner of the Universe. Satan is tempting Terry in Boise with pornography and, at the same time, using narcotics to try and ruin Shannon's life in Jacksonville. Satan is shacking up with Tom in Chicago, all the while, controlling every person who lives in North Korea with communism. And that's just the beginning of Satan. I'm not sure if the devil actually has an ending, because our stories, theologies, and imaginations seem to keep growing the Evil One's story.
Everyday conversations among a majority of Christians often include both specific and casual mentions of Satan, mentions that seem to suggest that many Christians put Satan, perhaps unintentionally, on equal footing with God.
Again, I realize that most Christian theologies don't suggest that Satan is equal to God, how we talk about The Enemy seems to proclaim otherwise.
So I'd love to ask a few questions in regard to Satan…
What do you believe to be true about Satan?
Is Satan a literal figure in your opinion?
How do you interpret the story of Jesus being tempted by Satan in the Wilderness?
What do you (or will/would you) teach your children about Satan?
How important is Satan to your own spirituality?
Because I think how we discuss Satan matters, and while lots of Christians talk of Satan, we rarely talk about how we talk about Satan…. and I think we should.
Viagra is for the treatment of inability to get or keep an hard-on and similar states when erection is of low quality. When you buy remedies like cialis from canada you should know about cialis online canada. It may have a lot of brands, but only one ATC Code. Erectile dysfunction, defined as the persistent impossibility to maintain a satisfactory erection, affects an estimated 15 to 30 millions men in the America alone. Sexual health is an substantial part of a man's life, no problem his age etc.