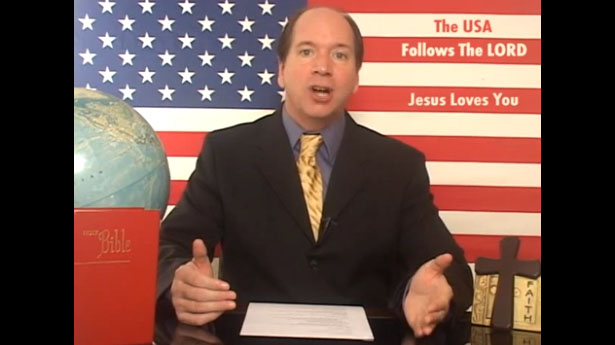 According to RawStory.com, Pastor Steven Andrew (pictured above!) delivered God's State of the Union on Tuesday evening shortly after President Obama delivered his address. Pastor Andrew runs USA CHRISTIAN MINISTRIES, and despite it sounding like a fake ministry, there is a website.
In the speech,God Andrew said: We want to seek God with all of our heart and soul. We want to obey the Holy Bible with all of our heart and soul, and we want Jesus as our king. This is how you restore God's blessings. People like Barack Obama have a totally different vision of America. His vision is to follow Satan.
Andrew continued speaking on behalf of God : Americans right now are suffering. There is great economic problems in the United States of America. We have the biggest debt in the world. How is this going to go away? This debt is going to go away by humbling ourselves before the Lord and not by serving Mammon but by putting Jesus Christ first.
You have the right to liberty, and this liberty is Christian liberty. All of our Founding Fathers used words that are found in the King James Bible. Liberty means this law of love, where as a Christian I'm not going to force you to do something against your conscience…
…And you have the right to the pursuit of happiness. This is what it means to be an American: You can serve God how God wants you to serve him according to the Bible. You can prosper, you can make money, you can have your own business, you own your land…
…And you can say whatever you want on behalf of God… because this is America, damn it.
Listen Andrew's entire rant below.
Thank you Joseph for the heads up.
Viagra is for the treatment of inability to get or keep an erection and similar states when erection is of low quality. When you buy remedies like cialis from canada you should know about cialis online canada. It may have a lot of brands, but only one ATC Code. Erectile dysfunction, defined as the persistent impossibility to maintain a satisfactory erection, affects an estimated 15 to 30 millions men in the America alone. Sexual health is an substantial part of a man's life, no question his age etc.