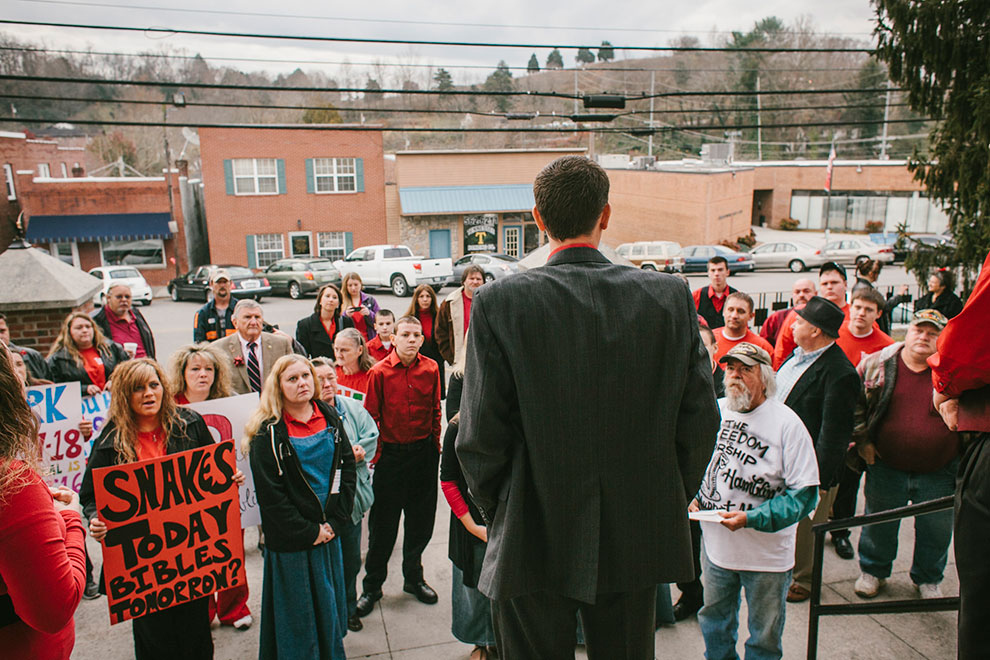 It's the morning of Nov. 7, 2013, and Andrew Hamblin, a 22-year-old pastor with ordinary, boyish looks and extraordinary ambition, is behind the wheel of his family's black Windstar minivan driving toward his church. It's 52 degrees, warm for autumn but made to feel colder by a northwesterly wind ruffling fallen oak and maple leaves. Along the road ahead, Cove Lake's rippling surface reflects the Cumberland Mountains. Heading west on Jacksboro, Hamblin makes a left onto a smaller, tighter road as four game wardens from the Tennessee Wildlife Resources Agency follow him.
Hamblin has led the Tabernacle Church of God in LaFollette, Tenn., since late 2011. The building is squat and brick. Concrete crosses are inlaid in its walls. Across the street, an emphatic WELCOME! is scrawled in red, loopy script on the side of a blue mailbox, which is gently rusting at its hinges. Beside the mailbox, a sign nailed to a juvenile maple reads POSTED: NO TRESPASSING. At the base of a dirt driveway, a slim marquee lists Hamblin's name under PASTOR, above service times: Friday at 7:30 p.m., and Sunday at 1 p.m. The church sits at the top of the driveway, adjacent to a gravel parking lot, at 345 Longmire Lane.
At 10:31 a.m. Hamblin posts to Facebook from his Android. "Anyone and everyone that will please begin to pray now. 4 game wardens have me at my church now. I don't know what the out come [sic] will be but Liz" — his wife — "will keep everyone posted. Mark 16:18 is still real." SOURCE.
Over the weekend, I read an interesting story about Jesus-loving snake handlers. Among Christians, snake-handlers are a fascinating group of people. For my book, Our Great Big American God, I read/researched a good bit about their beginnings, about the people who spearheaded the movement, and about the characters who lead their cause now. While you should read the whole story, because it's about Christians who play with snakes to showcase their faith in Christ, the pictures tell such a powerful (and insane) tale. Yet, in their defense, these believers are only doing what Jesus said his followers would be able to do: handle poisonous snakes, get bitten, and not die. Yet, despite their love of worshiping Jesus with reptiles, some of these pastors are indeed getting bit and dying. And they're also breaking the law.
Which is why Pastor Hamblin is fighting for his congregation's rights to handle snakes.
What do you think? Should Christian snake-handlers be allowed to practice their religion freely, without regulation?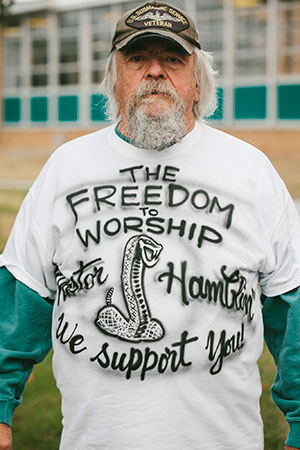 Viagra is for the treatment of inability to get or keep an erection and similar states when erection is of low quality. When you buy remedies like cialis from canada you should know about cialis online canada. It may have a lot of brands, but only one ATC Code. Erectile disfunction, defined as the persistent impossibility to maintain a satisfactory hard-on, affects an estimated 15 to 30 millions men in the America alone. Sexual soundness is an substantial part of a man's life, no matter his age etc.