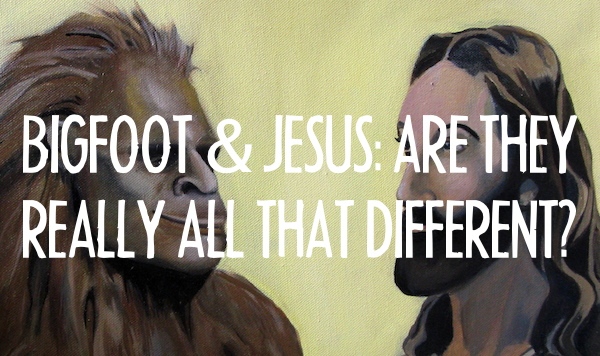 Like many, I'm fascinated by Bigfoot. Do I believe that Bigfoot exists? I wouldn't say I believe; mostly I just want to believe. Okay, I do believe. At least, a little…Which is why I'm fascinated by the seemingly growing search for Sasquatch. I love seeing all the blurry pictures. I love watching the latest shaky (and usually blurry) video clips on YouTube. And I confess, I've even spent more than a few consecutive hours couched in front of the TV, watching what might be the worst reality TV show ever made, Finding Bigfoot. Though I watch it on occasion, I can't defend it's awfulness. All the sound effects, the hooting and hollering, and all of the occasions when somebody will say, "Whoa! Did you just hear that?" And it all turns out to be a sixty-minute dramatic goose chase. But I watch sometimes, hoping the episode that I catch will finally be the one that lives up to its name.
My wife thinks my fascination is insane. "Turn that off," she told me the other night, referring to Finding Bigfoot, "our company will be here any minute, and I don't want that to be on when they get here." Jessica is embarrassed by my Bigfoot fetish. Which I can understand. If she knew how many nights I'm up, after she's going to bed, scrolling YouTube for the latest "sightings," she'd likely organize an intervention. My father-in-law also gives me a hard time, believing that my curiosity about Sasquatch is downright crazy. He's very dismissive about the whole topic. "There's no such thing as Bigfoot… PERIOD!" he's told me on multiple occasions. That, of course, usually causes me—a self-identifying Bigfoot agnostic— turn into the fanatical Bigfoot fundamentalist. I start doing what any enthusiast does when somebody dares to question that it might be a big ole waste of time believing in Bigfoot. I log onto YouTube to find the best footage. I go to the American Bigfoot Association's homepage and start searching for the best Sasquatch photos ever taken. I mention the number of documented Bigfoot sightings recorded by the Bigfoot Field Research Organization. I mean, you'd be surprised by how much "proof" exists to support the theory that Bigfoot is real. Can every single person who has witnessed Bigfoot be crazy, lying, or crazy and lying? Maybe. Sasquatch believers often don't have the best reputations. Take, for example, the latest BIG Bigfoot news: Texas hunter claims to have shot, killed Bigfoot. There's even a corpse and some strange cryptic video.
But alas, despite all the "evidence," only 29 percent of Americans believe in Bigfoot. The percentage of believers are even lower among Canadians and the Brits, 21 percent and 17 percent respectively. I personally know of only a few Bigfoot believers, mostly other writers like me who have a healthy love of zombies and nature and admit to watching the SyFy Channel on occasion. But usually when I mention Bigfoot in a serious tone, people make fun of me, shame me, and laugh at all of my online blurry evidence. Which is why I don't talk about it much anymore and have completely stopped trying to convert non believers.
And trust me, I understand why people don't believe in Bigfoot: it seems farfetched, it's not in the Bible, and the "proof" is always blurry, shaky, or riddled with lies.
In some ways, the cultural drama surrounding Bigfoot reminds me of our culture's debate about Jesus, most specifically, the resurrection of Jesus. How many times have we heard preachers–especially evangelical preachers–rattle off a listen of "the very best proof" as to why we should believe that Jesus raised from the grave. Usually those reasons include: the eyewitness accounts of two women who found the tomb empty, the new-found motivation of the disciples to renew their religious causes (many of whom were ready and willing to die for their belief), the large number of people who claim to have seen Jesus after the crucifixion (at last count, roughly 500 or so), and some people mention the Apostle Paul's conversion to Christianity as proof as well. There are no YouTube videos or pictures, and only a handful of good detailed first person accounts. I mean, compared to the proof that Bigfoot exists, the evidence surrounding Jesus's resurrection isn't all that great. And you know, I'm not sure poorly filmed video footage or blurry pictures of Jesus would help the cause either.
Because in the end, my curiosity about Bigfoot isn't built on the evidence (because I admit, most of it is pretty crappy), it's mostly built on the stories I heard people tell about Bigfoot when I was a kid, the mythical narratives that made their way into towns, communities, and cultures and spark conversation. Those stories conjured up wonder in me about whether or not the legends might be true. That's why I watch Finding Bigfoot. Not because it's good TV, but because it connects me to the stories and myths of my youth.
Many of us believe wholeheartedly in Jesus's resurrection for the same reason. It's not the so-called evidence that drives our faith in Christ being alive; it's the story, the legend, the myths that spread into our towns, cities, and cultures, capturing our imaginations (sometimes scarring the crap out of us) and urging us to explore, hope, and imagine the Kingdom of God. And once in a while, we're lucky to get a glimpse, often a blurry or shaky glimpse, that just might be "evidence" that Jesus is alive.
And while our sightings of Jesus don't often prove the resurrection story true for others, they do connect us to what fascinated us about Jesus in the beginning, when we first heard the story… and that becomes enough to help us believe again. And to keep searching. And to keep telling our stories…
Viagra is for the treatment of inability to get or keep an erection and similar states when erection is of low quality. When you buy remedies like cialis from canada you should know about cialis online canada. It may have a lot of brands, but only one ATC Code. Erectile disfunction, defined as the persistent impossibility to maintain a satisfactory erection, affects an estimated 15 to 30 millions men in the America alone. Sexual health is an substantial part of a man's life, no problem his age etc.