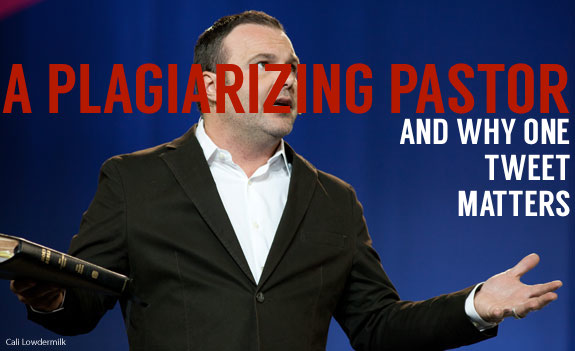 The following is a guest post by Sharideth Smith.
Unless you have never heard of the internet, you are probably aware of the Mark Driscoll plagiarism kerfuffle. If not, this article sums it up pretty nicely. There have been accusations and jokes and some very serious concerns over what appear to be well documented issues regarding Driscoll's lack of ability or willingness to cite his sources. His response has been to not respond. Well, except for that one time when he tried to sacrifice his ghostwriter to the intellectual property gods. And that thing where his publisher is defending him because money.
In the midst of all of this you would think he would be very careful about posting other people's words to internet without proper accreditation. But today this happened: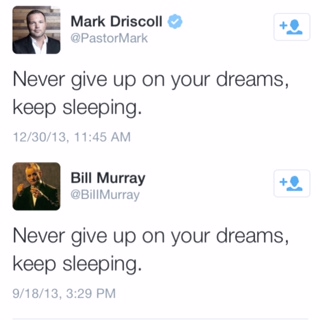 I'm not going to try to establish myself as neutral when it comes to Mark Driscoll. I am not a fan. But just like every other Christian since the dawn of redemption, I do not like to see our leaders fall. No matter what I believe about their character or how heinous their spiritual crime, I still get that greasy feeling in the pit of my stomach and that voice in my head saying, "What will people think? How will this hurt the Church?"
I feel that way now about Mark Driscoll.
And before you start loading up the comments section with "MARK IS AWESOME!", hear me out. Because friends, I am more concerned about the welfare of his church members than I will ever be about the opinions of those outside his church. Including my own.
If this tweet had been an isolated incident…no big deal. In fact, as others have noted, it's pretty much impossible to figure out who originally coined the joke. But it wasn't Mark Driscoll or Mars Hill. On its own, it's totally not worthy of the twitastrophe it became. Granted, that was mostly my fault. However, people were bothered by this because of the entire plagiarism context. They weren't Mark's words. But they were presented as Mark's words. His followers believed they were his words. You just can't do that. Especially when facing serious plagiarism allegations. Under the circumstances, that tweet was either foolish or arrogant. I'm not super excited about either option.
My real concern is for the internal Mars Hill response, or lack thereof, to the entire situation. Mars Hill members have been instructed to not respond at all to the issue. I've seen the email. In that same email, my friend was instructed to report anyone who did respond in a public way (Twitter, Facebook, etc.) to leadership. Yeah. You read that right.
That is not okay.
To defend the indefensible for the sake of our witness is completely backwards. We should be policing our own. Hard. We forget that Mars Hill does not belong to Mark Driscoll. It is not his church. It belongs to God. And…wait for it…God does not need Mark Driscoll to accomplish His goals or lead His kingdom. He just doesn't. He doesn't need me or you either. Not if He is the God we believe him to be.
In his book Freakonomics, Steven Levitt says:
"Purity is a good mask for corruption because it discourages inquiry."
This can be applied to just about every major embarrassment the Church has suffered. We need to stop being so terrified of our heroes' images being tarnished and start cleaning house. Questioning the actions of our leaders is not divisive or evil. It is essential.
I would like nothing better than to see Mark own this plagiarism thing and apologize. Love him or hate him, he will be forgiven. But if he continues to deny, to insulate or repeat the behavior like that tweet indicates, his fall will eventually be far, hard and final.
We must not put our faith in men. It is God's church. He will separate the wheat from the chaff as He sees fit.
Viagra is for the treatment of inability to get or keep an erection and similar states when erection is of low quality. When you buy remedies like cialis from canada you should know about cialis online canada. It may have a lot of brands, but only one ATC Code. Erectile disfunction, defined as the persistent impossibility to maintain a satisfactory hard-on, affects an estimated 15 to 30 millions men in the America alone. Sexual health is an substantial part of a man's life, no question his age etc.