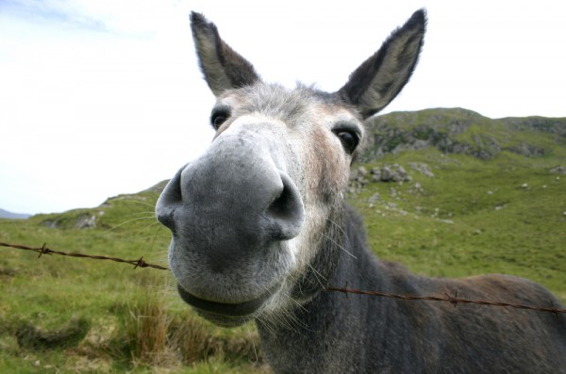 One of my friends in college had a very personal relationship with Jesus, one that, on occasion, led him to wake up at 4:30 in the morning and spend 90 minutes of quality time with Jesus before class. When I first met "D," I was sort of jealous of his spiritual discipline. At the time, I was experimenting with Calvinism and easily shamed by the intensities of other people's relationships with Jesus. But overtime I stopped being jealous of D's close relationship with Jesus. Because I began to notice that the more time D hung out with Jesus the bigger jackass he became. We could always tell when D and Jesus were engaging in "bro" time, because that quality time always seemed to make D angry, prideful, and intoxicated with his own spiritual certainty. As a recovering Baptist who, at the time, was a young and flourishing Presbyterian, I didn't want to end up being one of Jesus's jackasses.
Why do close relationships with Jesus turn some people into jackasses? That idea seems counter to everything that Jesus taught about God's Kingdom. Still, sometimes Jesus comes into a person's heart and makes them shape shifters.
I've known lots of people who Jesus has helped. I've seen Jesus help alcoholics to begin recovery. I've seen Jesus help fix marriages. I've seen Jesus make rich selfish people into rich giving people.
None of those things surprise me at all, because I believe that Jesus saves, that Jesus heals, and that Jesus changes people's lives.
But let's face it: how a relationship with Jesus affects people seems to vary a good bit. Because as much as Jesus brings some people hope, healing, and resurrection, that same Jesus also makes some people turn into intolerant name-calling Christians who seem downright entitled to utilize the Bible as a device to be mean and hateful. If engaging scripture and prayer and going to church makes us act like nasty, self-righteous jackasses, we've completely missed the point.
Engaging God's story in scripture should not make us certain, but it should help us to be merciful.
Trusting in Jesus should not make us intolerant, but it should help us to be peaceful.
Spending time in prayer should not make us angry people who are bent on shouting our opinions from the rooftops, but it should help us to be gracious and thankful.
A lot of us Christians, rather than being followers of Jesus, we're defenders of religious certainty. And having certainty about what is and isn't true, good, and holy is actually not faith, it's just certainty. And certainty regarding matters of faith isn't Christian.
So we end up acting like jackasses, kicking and galloping and trolling around like we own the place. All the while bellowing scripture and unfounded statistics…
We can't love people when we're intoxicated with certainty. We can't serve people with a pure heart if we're burdened by certainty. We can't be anything remotely close to "Christ-like" when we're certain beyond a shadow of a doubt that we know what's up regarding God. Why?
Because we're too busy defending our rightness to be kind, thoughtful, and good.
So instead, we kick, stomp, and wake up the neighbors shouting. And then we blame Jesus for the messes we make.
Viagra is for the treatment of inability to get or keep an erection and similar states when erection is of low quality. When you buy remedies like cialis from canada you should know about cialis online canada. It may have a lot of brands, but only one ATC Code. Erectile malfunction, defined as the persistent impossibility to maintain a satisfactory erection, affects an estimated 15 to 30 millions men in the America alone. Sexual soundness is an substantial part of a man's life, no problem his age etc.