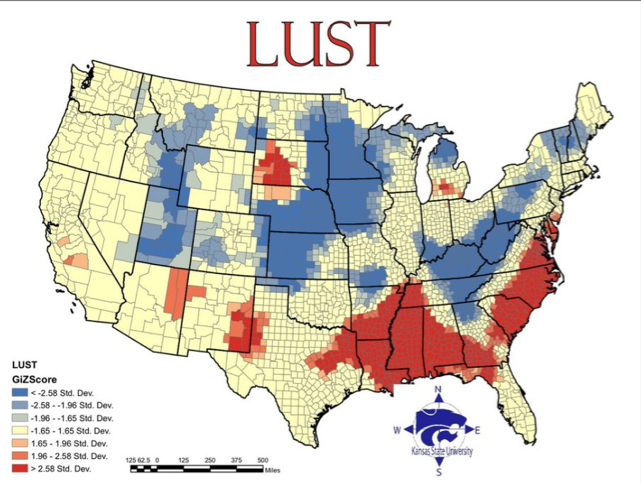 The folks at Memolition have posted 7 maps of the United States, each highlighting one of the 7 deadly sins and showcasing the sin's "spatial distribution" or which parts of our great country struggle with said sin the most vs. which parts do not.
The maps were created by researchers at Kansas State University.
How did they calculate our sins by region? Well, it differs according to sin. For instance, according to Memolition, "lust was calculated by compiling the number of sexually transmitted diseases — HIV, AIDS, syphilis, chlamydia and gonorrhea—reported per capita."
Sloth, on the other hand, "was calculated by comparing expenditures on arts, entertainment and recreation with the rate of employment."
While it's hardly perfect, it's certainly offers some interesting fodder to bring up at holiday parties or family gatherings…
Which of the 7 sins/maps do you find most intriguing…
Viagra is for the treatment of inability to get or keep an hard-on and similar states when erection is of low quality. When you buy remedies like cialis from canada you should know about cialis online canada. It may have a lot of brands, but only one ATC Code. Erectile malfunction, defined as the persistent impossibility to maintain a satisfactory erection, affects an estimated 15 to 30 millions men in the America alone. Sexual health is an substantial part of a man's life, no problem his age etc.