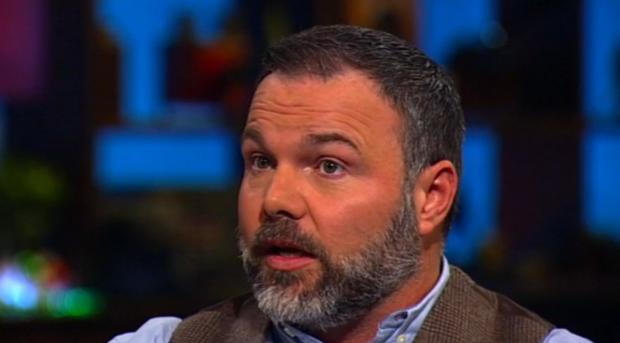 So… maybe you heard that Mark Driscoll appeared on Glenn Beck's show last night. Why was he there? To inform Glenn Beck about everything that's wrong with today's American men.
"…guys have no vision of future, career, no intent of taking a gal on a date, maybe to get a wife out of the deal, maybe have a kid," Driscoll told Beck.
What's the solution for America's lazy, porn-loving American male species? Driscoll knows.
"You've got to tell them that they're wrong! That they're absolutely wrong, and they have no idea what they're doing. And that the culture has sold them a bunch of products, and it's just trying to make them addicted to porn and pot and substances and to take all the money out of their wallet…because the fool's parade keeps going to the ATM and handing away their future."
Apparently, Driscoll is the only person concerned about America's dude population. "No one else is doing it. The world is just filled with noise, and if you can cut against the grain, say something in a different tone with different content … initially you're offended by it … but now I'm interested because maybe, maybe I've been lied to. Because my thing ain't working … maybe the bus I'm on is headed over a cliff and it's a good time to consider getting off."
He continued: "Nobody looks at these guys and says, 'You didn't have a dad. You're addicted to porn. You don't have a clue. You don't have a plan. You're part of the problem. Stop smiling, because you're the joke.' Nobody just tells them that, but that's exactly what they need…"
You can watch clips from the interview here.
Driscoll isn't entirely wrong here. But he's not entirely right either. Not all of America's twenty-something men are lazy and addicted to video games. He assumes a lot. He makes no distinctions between what's good and true about today's young men and what could be improved. That's because Driscoll is going after a certain segment of the "lazy young male" population, those who are in such disarray that they are looking to be led and looking to be told what to do. He wants men who can be put in their place and then made into mini, less popular versions of himself. It's almost like he's looking to become "Daddy" to America's fatherless generation.
Notice how he does nothing but shame young men? I believe that is a very intentional calculated tactic. It's not his intention inspire young men. Mark wants to beat them down. Take off his belt and give them a good whippin'. Because he knows that inspired young men are less likely to become manipulated. And too, he knows that his "you're a joke!" message often speaks to the lowest of the low. And his type of fundamentalism offers a solution.
Fundamentalism always feeds off the most vulnerable.
Viagra is for the treatment of inability to get or keep an erection and similar states when erection is of low quality. When you buy remedies like cialis from canada you should know about cialis online canada. It may have a lot of brands, but only one ATC Code. Erectile dysfunction, defined as the persistent impossibility to maintain a satisfactory erection, affects an estimated 15 to 30 millions men in the America alone. Sexual soundness is an substantial part of a man's life, no question his age etc.