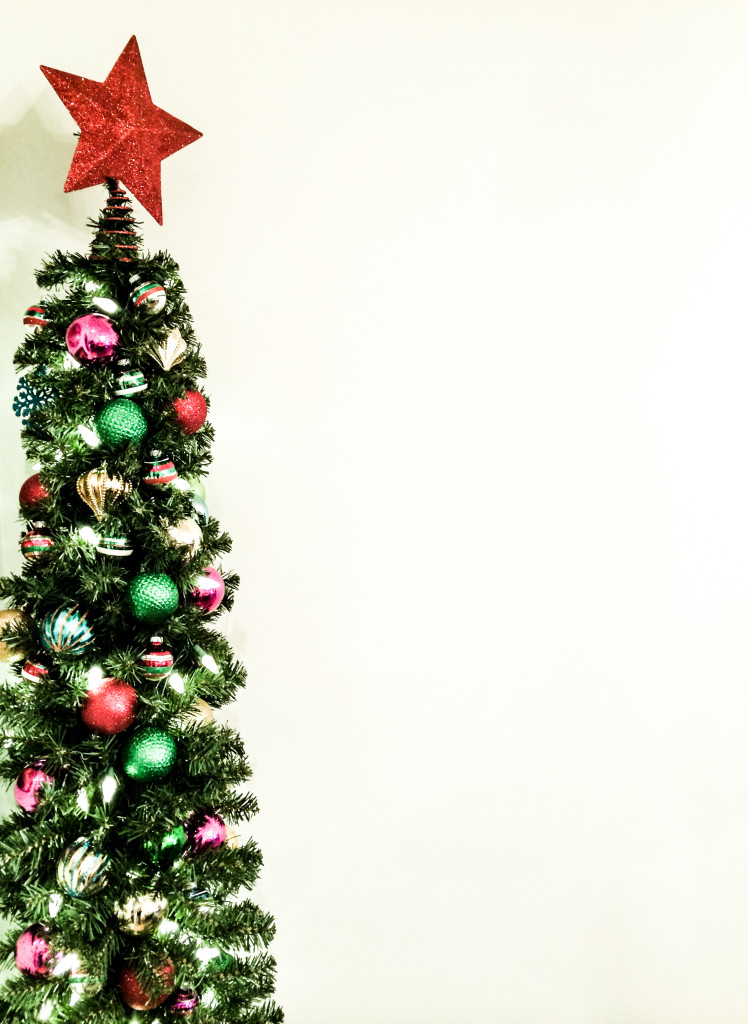 Sometimes happiness is indeed a choice. Not always. Not for all of us. Not in every situation. But sometimes—sometimes—we indeed are given the power to choose to be happy.
In October, my wife and I made a difficult choice, one that I needed to make in order to like Christmas again. After much discussion, sometimes heated discussions, we made the choice to spend the holiday season at home in Nashville.
Not since getting married 9 years ago had we spent Thanksgiving and/or Christmas in Nashville. Every single Thanksgiving and Christmas (and sometimes over New Year's) we traveled, one holiday to Maryland (my family's home) and the other holiday to Wisconsin (Jessica's family's home). If we went to Maryland for Thanksgiving, we'd go to Wisconsin for Christmas.
Sometimes we drove. Sometimes we flew. Sometimes we flew then drove… but over the years, our holiday traditions, though they delighted Jessica, they exhausted me.
A couple years ago, I remember looking at Jessica and saying, "Baby, I pretty much dread the holidays."
Which was hard for me to admit. Because for one thing, I don't like being a scrooge. And because I'd grown up loving Christmas. But the busyness of the season (and the anticipation of the busyness of the season) seemingly was stealing away from me my Fa la la la.
Maybe I let it do that. But each season, as much as I tried to engage a joyful spirit during the holidays, every year, beginning the week before Thanksgiving, I started getting anxious, a worry that caused me to become irritable and preoccupied with how stressful "the most wonderful time of year" made me feel.
Don't get me wrong, the family time was great (or at least, most of it was great… you know how holiday family gatherings can be)… but I needed a change.
So this year, we decided to stay home. No traveling. Zilch. That wasn't an easy decision. Partly, because we didn't want to disappoint our families, break our traditions, or be "selfish" with our time. Despite all of those things, both Jessica and I—together—came to the conclusion that this was the year that we would enjoy Thanksgiving and Christmas and New Year's in the comfort of our Nashville home, together as a family. We didn't make any decision or proclamations about next year, we simply made change for this year.
And I have to say, it's been really nice. My spirit needed this. It's been a long time since I've been so excited about the holidays. I sort of feel like a kid again. So far, I've thoroughly enjoyed every aspect our holiday, from gathering for food and conversation with friends on Thanksgiving to decorating our home to doing little holiday projects with the kids to watching Christmas TV specials to even some shopping (though most of it has been online)…
I feel like I can breathe this holiday. And I'm doing my best to savor every single moment… but getting to that place required us to make a choice to do something different.
What are the holidays like for you? Maybe you're nothing like me, maybe you have a personality that is able to thoroughly enjoy every holiday regardless of where you are, what you have to do, where you need to go, etc. But some of us, for various reasons, have gotten into the habit of dreading the holidays. In fact, some of us have gotten so used to that dark "Christmas spirit" that we anticipate it, likely making it worse.
But rather than simply enduring or surviving or mourning the holiday season, have you considered doing something different this year (or next year)? Rather than keeping with the same old traditions, why not break the cycle and switch things up and see if that makes any difference in how you experience Advent?
Sometimes getting to experience "comfort and joy" is as simple as choosing to set the stage so that you can feel comfort and joy. This isn't true for all of us. But for some of us, it is true.
And while Jessica and I will certainly travel again for the holidays, this year we broke the rules, which allows us the opportunity to create new rules for how we choose to celebrate the holidays. And for now, that choice has made me feel all merry and bright inside.
So, stop feeling "selfish" for wanting to do something different or for needing to do something different. Be honest with your loved ones about what you are feeling. Make some changes. Perhaps a big change or several small changes. Engage those difficult conversations. And perhaps… just maybe… saying "Merry Christmas" will mean something for you again.
Viagra is for the treatment of inability to get or keep an erection and similar states when erection is of low quality. When you buy remedies like cialis from canada you should know about cialis online canada. It may have a lot of brands, but only one ATC Code. Erectile malfunction, defined as the persistent impossibility to maintain a satisfactory erection, affects an estimated 15 to 30 millions men in the America alone. Sexual health is an substantial part of a man's life, no question his age etc.